Research Model and Methodology
The health economy creates more data than any other part of the U.S. economy, but healthcare decision makers—from life sciences to investors—have been challenged to analyze and interpret the data thoroughly and quickly enough to adapt to the constant change.

Trilliant Health's research, which leverages a national database of medical and pharmaceutical claims of more than 300M patients, equips stakeholders with analysis and interpretation of evolving and emerging healthcare trends through the economic framework of demand, supply and yield.

By contextualizing the rate and magnitude of change across the health economy, our open and premium access research prepares stakeholders to better navigate healthcare's negative-sum game. Read more about our methodology.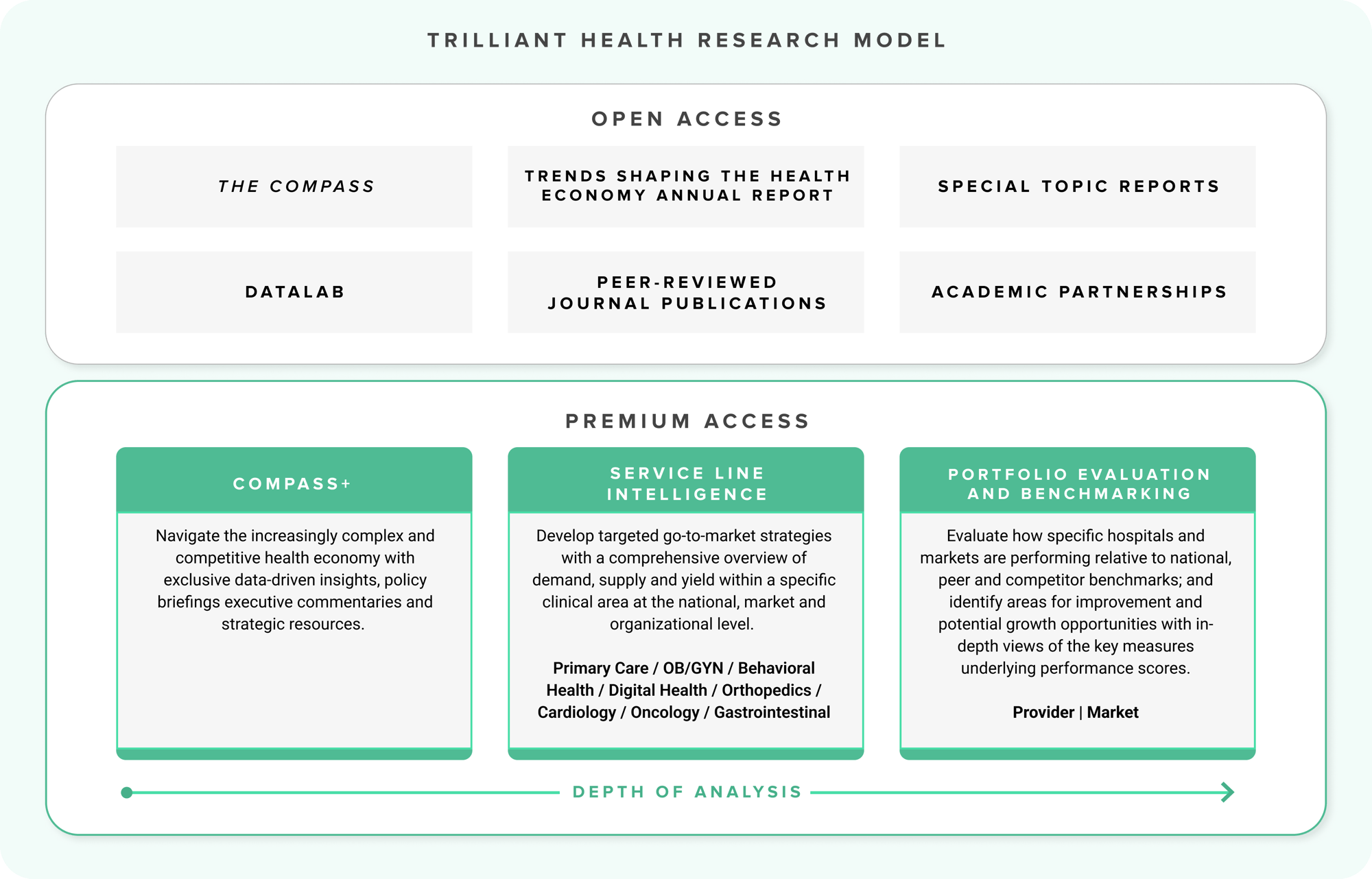 2023 Trends Shaping the Health Economy
The report is a fact-based national analysis of 10 data-driven trends that will define the landscape, and subsequent challenges, for all players in the health economy, revealing the importance of delivering value for money.

Research Subscriptions​
Our premium subscriptions offer in-depth analysis and interpretation of evolving and emerging trends through the lens of demand, supply and yield.
Access a subscriber-only platform with exclusive data-driven insights, policy briefings, executive commentaries and strategic resources.

Learn More >
Develop targeted go-to-market strategies with a comprehensive overview of demand, supply and yield within a specific clinical area at the national, market and organizational level.
Primary Care / OB/GYN / Behavioral Health / Digital Health / Orthopedics / Cardiology / Oncology / Gastrointestinal

Learn More >

Evaluate how specific hospitals and markets are performing relative to national, peer and competitor benchmarks; and identify areas for improvement and potential growth opportunities with in-depth views of the key measures underlying performance scores.
Provider | Market
Analytic and Research Methods
Our research begins with our industry-leading dataset that contains detailed medical and pharmacy claims for more than 300 million patients. By leveraging extensive machine learning methods, our dataset provides a longitudinal view into the billable interactions between individual providers and patients across care settings, payer types and geographies. To provide comprehensive insight into the individual patient journey, we link our proprietary data to other sources to bring in social determinants and consumer behavior.

Comprised of health policy analysts, data scientists and economists, our research team takes a multidisciplinary approach to analyzing and interpreting healthcare trends using a mix of rigorous quantitative and qualitative methods.