The Impact of Tele-Prescribing Flexibilities on Opioid Prescription Volumes During the Public Health Emergency
The Department of Health and Human Services' (HHS) declaration of a public health emergency (PHE) has enabled numerous changes in national and state health policy over the past two years. Certain consequences of these changes are of increasing concern.
As part of the ongoing PHE declaration, HHS authorized prescribing of controlled substances via telehealth without requiring an initial in-person visit.1,2 In turn, several states temporarily lifted prescribing restrictions, which primarily expire by the end of the PHE, which is uncertain.3 The Department of Justice recently charged almost 140 providers with fraud related to tele-prescribing of opioids.4
But to what extent has this flexibility substituted controlled substance prescribing, versus facilitating new or potentially unnecessary prescribing? When comparing oxycodone and hydrocodone prescriptions (filled within three days) resulting from in-person and telehealth encounters, we see that telehealth facilitated an 4.6% increase of total patients receiving these drugs in 2020 (Figure 1). Research has also shown that drug overdose deaths spiked amid the pandemic, increasing most in the District of Columbia (72%), South Carolina (65%), and Louisiana (62%) in 2020.5 Of note, overdose deaths are attributed to a broader set of drugs, with the highest proportion attribute to fentanyl, than the two controlled substances included in this study.6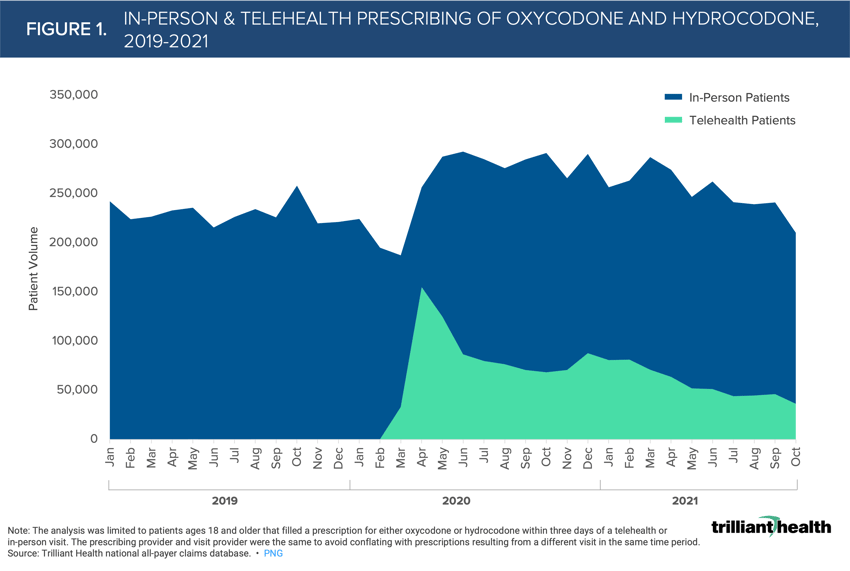 Background
Although many studies have raised questions about tele-prescribing without an in-person consultation, especially for antibiotics and controlled substances, some policymakers are considering permanently codifying tele-prescribing of controlled substances.7,8,9,10,11,12 For example, Governor Ron DeSantis (R) recently signed into law S.B. 312, which permanently removes certain restrictions on controlled substances prescribing practices via telehealth in Florida. As a result, Florida providers are authorized to prescribe Schedule II drugs (e.g., oxycodone, hydrocodone) via telehealth for treatment of psychiatric disorders, certain hospital inpatients, hospice patients, and nursing home residents.
Several direct-to-consumer platforms (e.g., Nurx, Lemonaid, Cerebral) with e-prescribing capabilities have entered the market as telehealth utilization temporarily spiked and restrictions loosened during the PHE.
Analytic Approach
To analyze the impact of more permissive tele-prescribing guidelines for controlled substances, we examined prescribing volumes over time, demographic differences of patients, and diagnosis of visits where select prescriptions were sourced. The analysis was limited to patients ages 18 and older that filled a prescription for either oxycodone or hydrocodone within three days of a telehealth visit. The prescribing provider and telehealth visit provider were the same to avoid conflating with prescriptions resulting from a different visit in the same time period. We then segmented patients and providers with and without an existing relationship to account for pre-pandemic restrictions for controlled substance prescriptions, which require either an in-person consultation or an existing patient-provider relationship.
Findings
While tele-prescribing of oxycodone and hydrocodone peaked in April 2020, by April 2021, patient volume had declined by 60.2% for patients with an existing provider relationship and 149.6% for patients without an existing provider relationship (Figure 2). Across both patients with and without existing provider relationships, the majority of patients leveraging e-prescriptions were female (without relationship: 59.6%; with relationship: 61.5%).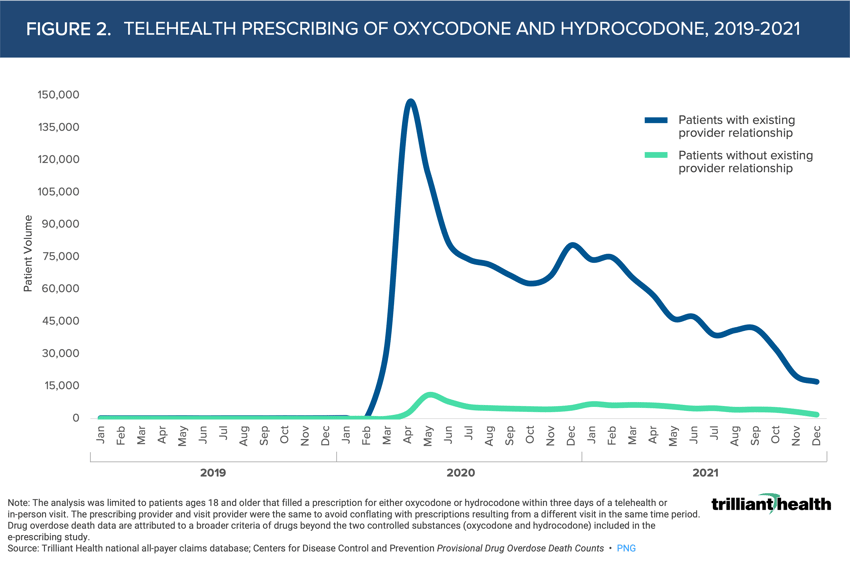 Moreover, the primary diagnoses across both patient groups are similar. Low back pain and general chronic pain are the two most common diagnoses for patients in both groups (Figure 3). Chronic illnesses such as hypertension (4.3%) and diabetes (2.9%) were more common among the patient group with existing provider relationships (7.1%). Alternately, general examinations, which are mostly unspecified, are more common among patients without an existing provider relationship (5.0%).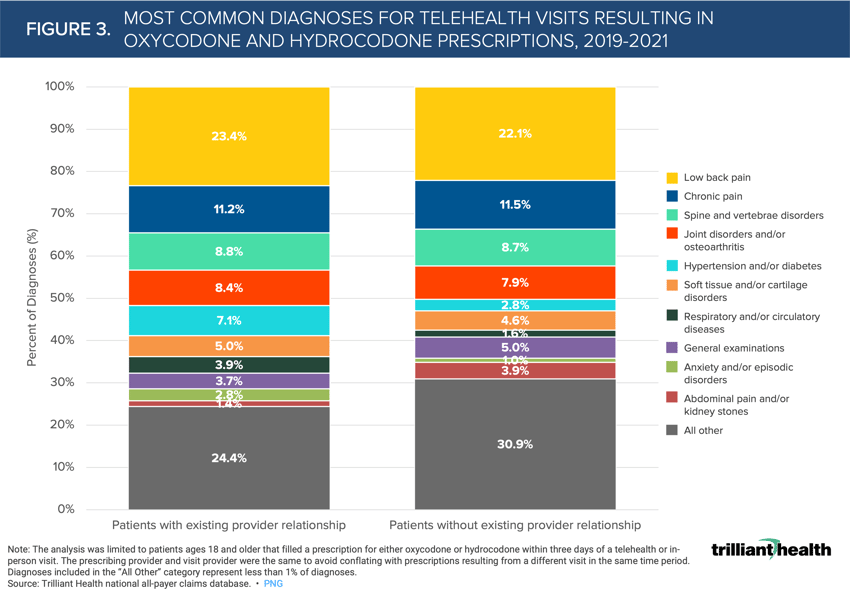 States are already taking action to codify these practices into law, and members of Congress are advocating for similar extensions, even though other stakeholders such as the NCQA have raised patient safety concerns around over-prescribing of controlled substances via telehealth.13 While our initial analysis is limited to a subset of opioids with a history of misuse, lawmakers would benefit from a longitudinal, detailed understanding of the prescribing practices of controlled substances throughout the PHE. Ensuring access to critical medications is paramount, however decisions to broadly expand this capability requires more nuanced insight into patient- and provider-level prescribing behavior.
Several questions remain as policymakers fully understand the state of tele-prescribing particularly for controlled substances. Which states are only seeing a temporary increase in overdose deaths and over-prescribing? What else do we know about the patients who are receiving opioids via telehealth? Are there geographic areas in which tele-prescribing of opioids is concentrated to certain providers? Future research will continue to explore these questions, offering policymakers more evidence to inform future legislative decisions that address the ongoing opioid epidemic.
Thanks to Kelly Boyce and Katie Patton for their research support.