The Government's Role as the Largest Payer of Healthcare Services is Growing
With nearly half of all Americans covered by Medicare or Medicaid, the U.S. government is and will continue to be the single largest payer (and regulator) of healthcare services. As of March 2021, more than 82M Americans were covered by Medicaid or the Children's Health Insurance Plan (CHIP), representing a 20M increase from average 2019 enrollment levels. Coverage shifts due to unemployment during the COVID-19 pandemic were a contributing factor to this spike in enrollment. Additionally, enrollment in either traditional Medicare or Medicare Advantage totaled almost 63M as of July 2020, a figure that is only projected to increase as the Baby Boomers continue to age into Medicare.
The growing role of the federal government is further evidenced by the steady growth in health system revenues attributed to government programs, primarily Medicare and Medicaid. In our analysis of net patient revenues reported directly from health systems via financial statements, we calculated the average share of revenue attributed to government payers 20 of the largest health systems (Figure 1).
Share of revenue from government payers increased by an average of seven percentage points between 2012 and 2020 from 42.1% to 49%. While the percent of revenue attributed to government payments spans a large range and the long-term implications of the temporal growth in Medicaid during the pandemic are yet to be seen, the upper limit is nearing 70% for many health systems.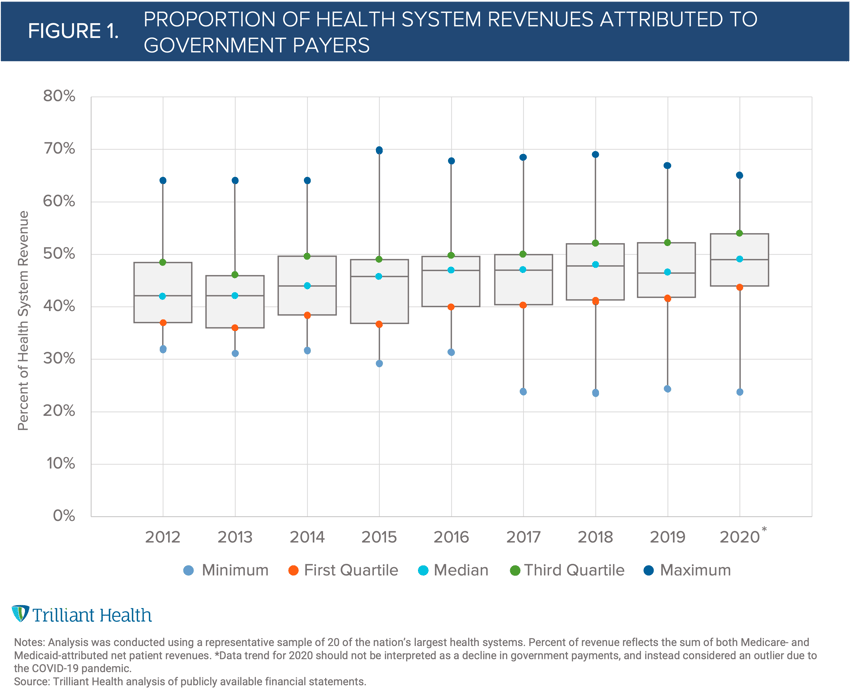 Projected births are insufficient to offset the accelerating Medicare enrollment from Baby Boomers, leading to an inevitable decline in the commercially insured population. This reality compounded by the uncertainty of future payment rates will continue to heighten the financial pressures on health systems. With an increased focus on affordability and transparency from Congress and the Administration, engagement with legislators and regulators is imperative for the health systems delivering care to a growing number of government beneficiaries. Future health system strategies will need to account for the higher volumes of older patients and shifts in revenue streams in order to remain competitive in this negative-sum game.
The most effective health systems will be those that recognize the government's role as the largest payer. As an active participant in relevant policymaking dialogue, health systems will be better prepared to both adjust to the shifting sources of coverage and meet the needs of their patients, consumers, and health plan members, all constituents represented at the ballot box.
---
Policy In Focus
The House of Representatives and the U.S. Senate will return to session on Monday, September 13 and Monday September 20. Historically, September through December has marked a busy period for Congress and this year promises to be no different, albeit with higher stakes for Democrats as they try to steer key components of President Biden's Build Back Better agenda amidst calendar constraints.
During the first two weeks of September, House committees will mark up their portions of the budget resolution to have the partisan package ready by the time the bipartisan infrastructure package comes up for a vote. While the bipartisan infrastructure package is focused on traditional infrastructure items, the budget resolution will address a host of healthcare-related priorities. Notably, the budget resolution would expand Medicare to include dental, hearing, and vision benefits, extend enhanced premium subsidies granted during the COVID-19 public health emergency, and invest in home- and community-based services. The budget resolution would also achieve savings by granting Medicare the ability to negotiate prescription drug prices. AHIP released a study on August 25, which found that adding dental, vision and hearing benefits to traditional Medicare without adjusting Medicare Advantage payments could increase premiums for plans and lower rebates by up to 73%.
Competing priorities, such as surging COVID-19 cases and hospitalizations and the withdrawal from Afghanistan, could divert Congress and the Administration's focus from budgetary and healthcare priorities and deadlines. The four Committees in Congress that have jurisdiction over healthcare policy – the House Energy & Commerce Committee, the House Ways & Means Committee, the Senate Health, Education, Labor and Pensions (HELP) Committee, and the Senate Finance Committee, have yet to announce their agenda and hearings schedule for September. The Senate Finance Committee and House Energy and Commerce Committee are responsible for drafting language related to Medicare, therefore both committees may prioritize this effort during the first two weeks of September.
Provider Groups Advocate for Value in Health Care Act to Be Included in $3.5 Trillion FY 2022 Budget Resolution
Twelve hospital and physician groups wrote a letter to House and Senate Leadership asking for the Value in Health Care Act to be included in the $3.5T infrastructure package. The groups that signed onto the letter include: the American Medical Association, the American Hospital Association, the Federation of American Hospitals, the American College of Physicians, the National Association of ACOs (NAACOS), American Medical Group Association (AMGA), America's Physician Groups, and the Association of American Medical Colleges. Learn more.
Insight: The Value in Health Care Act was reintroduced by Congresswoman DelBene (D-WA) and would provide several changes to program requirements of Medicare's Alternative Payment Models. The bill would increase Medicare Shared Savings rates, update risk adjustment rules, eliminate the artificial distinction between "high" and "low" revenue accountable care organizations (ACOs), and restart the ACO Investment Model. Ultimately, it provides recommendations to calculate how Medicare savings are measured and the percentage for physicians, hospitals, and their business partners as Qualified Providers in an approved ACO. It remains to be seen whether the legislation will be included, given Democrats aim to pass the $3.5T legislation through the reconciliation process, which is only applicable to budget bills.
CMS Delays Enforcement of Key Parts of Price Transparency Rule by Six Months
The Centers for Medicare & Medicaid Services (CMS) provided guidance delaying the provision of the federal transparency law that requires health plans to disclose their negotiated provider payment rates from its original January 1, 2022 date until July 1, 2022. Additionally, CMS will defer enforcement of pharmacy benefit and drug cost reporting requirements likely until 2022. Learn more.
Insight: The Biden Administration delayed the enforcement to give plans more time to comply. However, the delay does not impact the existing transparency requirements for hospitals and health systems.
HHS Hires Four Firms to Audit Provider Relief Fund (PRF) Grants
Late last week, HHS hired Grant Thornton, Creative Solutions Counseling, PwC, and KPMG to audit the PRF grants that were sent to hospitals and healthcare providers during the COVID-19 pandemic. The audits are expected to begin after September 30 and will focus on providers that received at least $750,000 from the $178B PRF program. Learn more.
Insight: As a signal of the Biden Administration's effort and priority to understand how PRF funds have been used, HHS announced that it would replace Health Resources and Services Administration Office of Provider Support with a new Provider Relief Fund Bureau.
HHS Establishes Office of Climate Change and Health Equity
HHS announced it will establish this new office in response to President Biden's Executive Order on "Tackling the Climate Crisis at Home and Abroad." The office will address climate change and health equity issues at the national level, including initiatives aimed at identifying communities with disproportionate exposures to climate, promoting public health research, promoting healthcare workforce training, and reducing healthcare providers' carbon emissions. Learn more.
Insight: According to HHS Secretary Xavier Becerra, HHS would seek to partner with the healthcare industry to reduce its greenhouse gas emissions and build up hospitals' resilience to climate change. This announcement is well-timed as hospitals and health systems have been increasing investments in initiatives to advance health equity and social determinants of health. In his remarks, Becerra stated that this new office will be a permanent office within HHS, rather than a temporary initiative.
---
Policy in Development
Reps. Smith (R-NE), Buchanan (R-FL), and Wenstrup (R-OH) introduced the Strengthening Innovation in Medicare and Medicaid Act, which would reduce uncertainty for both patients and providers by refining definitions for the phases and steps in Center for Medicare and Medicaid Innovation (CMMI's) model testing process. It would ensure new models are appropriately limited in size and scope during initial testing, while reasserting Congressional authority to review model expansion, bringing additional transparency to CMMI initiatives. The likelihood of the legislation moving out of Committee and to the House floor remains low given lack of bipartisan support. Learn more.
Rep. Terri Sewell (D-AL) joined Reps. Fred Upton (R-MI), Debbie Dingell (D-MI), and Vern Buchanan (R-FL) in introducing the Preserving Patient Access to Home Infusion Act, which would ensure patients with serious viral and fungal infections, heart failure, immune diseases, cancer, and other conditions receive the required intravenous (IV) medications while at home. The legislation would provide technical clarifications that would remove the physical presence requirement, ensuring payment regardless of whether a healthcare professional is present in the patient's home. The legislation also acknowledges the full scope of professional services provided in home infusion—including essential pharmacist services—into the reimbursement structure. The legislation stands a fair chance of moving given the bipartisan support and most importantly, it also has a companion bill in the Senate. Learn more.
Rep. Ron Kind (D-WI) helped introduce the bipartisan Keep Physicians Serving Patients Act to adjust Medicare reimbursement formulas that disproportionately impact rural health care providers. This bill would adjust the geographic practice cost index (GPCI) to accurately reflect the cost of labor and practice expenses in rural regions. The current GPCI formula underestimates labor and practice costs in rural areas and results in lower Medicare payments to rural physicians compared to their urban counterparts. The bill is co-led by Reps. Cindy Axne (D-IA), Darin LaHood (R-IL), Terri Sewell (D-AL), and Adrian Smith (R-NE). Learn more.
Reps. Bill Posey (R-FL) and Tim Ryan (D-OH) introduced bipartisan legislation, the Safe Medicine Act, to end reliance on foreign powers for certain pharmaceuticals and generics. The Safe Medicine Act directs the Secretaries of HHS, Defense, and Veterans Affairs to end American over-dependence on Chinese pharmaceuticals by developing a procurement strategy and implementation plan to increase manufacturing in the U.S. of essential medicines, medical countermeasures, and critical inputs. Learn more.
---
ICYMI
---
Looking Ahead
Legislation and Upcoming Hearings

Senate HELP: No relevant activity
House Ways & Means: Beginning September 9, the Committee will begin consideration of legislative proposals under the budget reconciliation instructions. This includes markups of proposals regarding universal paid family and medical leave, access to childcare, and strengthening retirement savings.
House Energy & Commerce and Senate Finance Committee: Both Committees have yet to announce their agenda for September, but legislators will be drafting their language on healthcare priorities to be included in the Budget Resolution.
September 15: The soft deadline for Committee Chairs to finish drafting their portions of the $3.5 trillion reconciliation bill.
September 27: The House will vote on the $1 trillion infrastructure measure.
September 30: Funding for the federal government expires.
September 30: Several program authorizations expire, including the federal highway program, the National Flood Insurance Program, the Temporary Assistance for Needy Families, and increased benefits under the Supplemental Nutrition Assistance Program.
Thanks to Katie Patton and Hannah Pike for their research support
and The Vogel Group for their thought partnership.