The Data Behind Z Codes for Social Determinants of Health
It is well established that social determinants of health (SDOH) drive 80% of health outcomes, particularly for identifying barriers to care, determining necessary social care, and both financing and facilitating delivery of appropriate resources. Even so, SDOH-specific Z codes, which are poised to address this gap in care have been underutilized, primarily because of administrative burden and lack of provider awareness. Reducing disparity in health equity is hindered by the disparate and inconsistent use of SDOH-related Z codes across markets.
Z codes (Z55-655), which can be used in any health setting by any provider type, collect data on economic, social, and environmental factors (e.g., education and literacy, employment, housing, food security, and occupational hazards). In October, the Centers for Medicare and Medicaid Services (CMS) issued a report on SDOH Z code claims, limiting their analysis to fee-for-service Medicare. Among their findings, CMS reported that although Z code claims accounted for 0.1% of all claims, the most frequently used Z codes were related to homelessness (22%), disappearance and death of a family member (12%), problems related to living alone (12%), problems related to living in a residential institution (5%), and problems in relationship to spouse or partner (5%).
Building on CMS' analysis, we quantified use of Z codes nationally in other payer populations – commercially insured, Medicare Advantage, and Medicaid. Our analysis considered Z code claims from January 2017 to July 2021 in CBSAs with populations over 200K, as of 2020. We then examined three SDOH-related characteristics - housing insecurity, food insecurity, and poverty level - in those same CBSAs to rank the markets based upon Z-code utilization. Interestingly, the most frequently used codes in this analysis (by patient) were: problems related to unwanted pregnancy (13.4%), other specified problems related to primary support group (7.4%), problems in relationship with spouse or partner (7.1%), homelessness (6.0%), and problem related to housing and economic circumstances, unspecified (5.7%).
The market characteristics of the ten CBSAs with the highest utilization of SDOH Z codes vary (Figure 1), reminding us that healthcare is local. Seven of the CBSAs showed higher-than-average levels of both poverty and food and housing insecurity compared to the national average. Even in markets with high Z-code utilization, the codes were utilized for fewer than 1.1% of the patients in markets in which the poverty rate was more than 8%.
Provider billing volume of Z codes varied widely among markets, with larger health systems representing primary share of the coding in certain markets and independent clinics accounting for primary share in other CBSAs. One commonality between these high Z-code utilizing markets is the presence of SDOH partnerships with either payers, nonprofit organizations, or technology companies (e.g., Unite Us).
Expanding provider awareness and coding of SDOH-related Z codes is essential to connect patients who have housing and food insecurity issues with appropriate resources. One strategy is to create SDOH partnerships between organizations focused on SDOH mitigation and health systems and provider organizations. Policymakers and regulators can further encourage use of Z codes through bonus incentives, and penalties for lack of Z code utilization in health systems. The CMS report highlights this by acknowledging an absence of financial incentives and providers' perceived ability to address SDOH-related issues are persistent barriers to greater adoption of Z coding in clinical practices.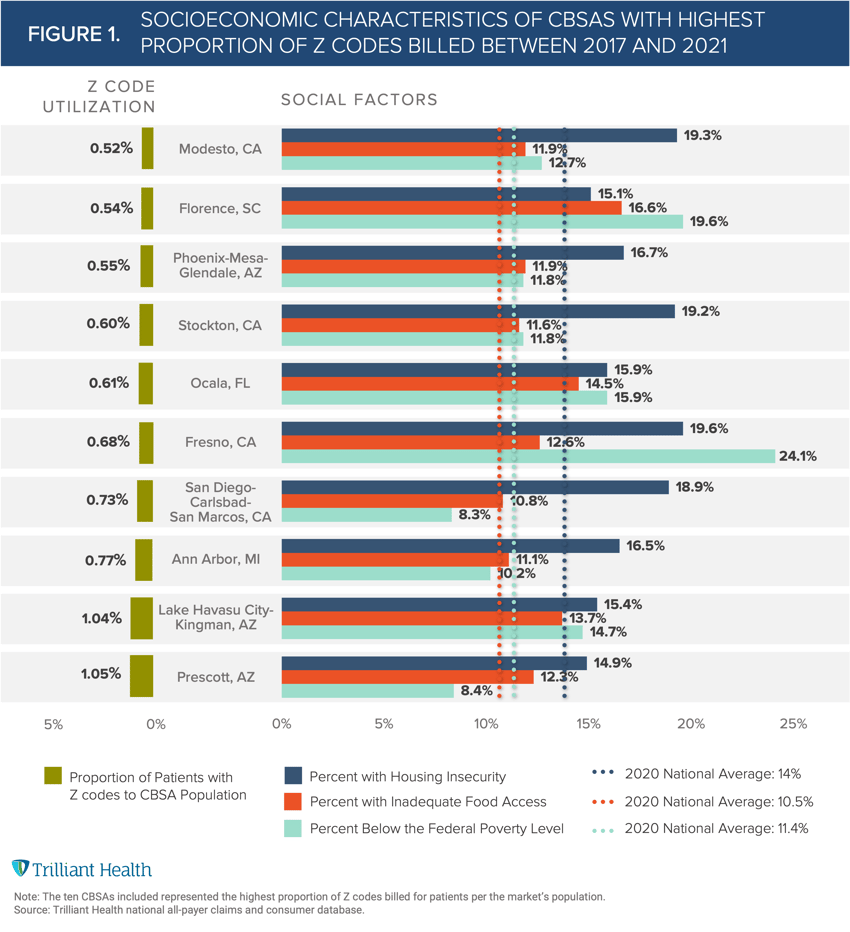 ---
Policy In Focus
After weeks of negotiations, President Biden released a framework for the $1.75T social spending package along with the initial bill text. The White House's revised framework includes several Medicaid-related measures. During negotiations, several initiatives were removed or altered (e.g., paid family leave and extension of Medicare benefits). The framework expands Medicare benefits to include hearing but does not include dental and vision, which was a priority for many progressive members. While drug pricing was initially left out of the Biden framework, Sen. Majority Leader Chuck Schumer (D-NY) announced that Democrats had reached a deal regarding the inclusion of drug pricing provisions. The legislation will allow Medicare price negotiation for some Part B and Part D drugs, establish a $2,000 annual out-of-pocket cap in Part D, and $35 insulin cap; drugs subject to negotiation is not yet clear.
Throughout the budget reconciliation negotiations, several health economy stakeholders have remained engaged in Washington. Government relations spending by the largest healthcare providers surged in the third quarter. Approximately 60 health-related industry associations spent at least $500K on advocacy in Q3, totaling $95.73M (an increase of 17% from Q3 2020). The Pharmaceutical Research and Manufacturers of America spent approximately $7.4M in Q3 2021 compared to $5.9M in Q3 2020. In the same timeframe, the American Hospital Association and American Medical Association spent $4.4M and $3.4M, respectively.
Legislation Seeks to Address Healthcare Labor Shortages and Resignations
As the COVID-19 pandemic continues, health systems are increasingly facing labor shortages, resignations, and worker strikes. Several proposals have been introduced in Congress that aim to address burnout and protect healthcare workers. The bipartisan Dr. Lorna Breen Health Care Provider Protection Act passed the Senate in August and is currently being considered in the House. The identical House bill currently has 140 cosponsors, a sign of Congressional support to address staff burnout. However, with Congress focused on infrastructure and reconciliation, it is not clear whether passing S.610 will be a priority this year. Additionally, the Health Resources and Services Administration (HRSA) issued a strategic plan mandated by the CARES Act regarding the healthcare workforce shortage. In the plan, HRSA outlines four goals: expand the workforce to meet localized needs, improve workforce distribution, improve quality through professional development, and develop data-driven strategies. HRSA references targeted financial support and tailored incentives to ensure improved distribution of workers and evidence-based forecasting to anticipate labor needs. Learn more.
Insight: The American Hospital Association expressed support of the bipartisan Dr. Lorna Breen Health Care Provider Protection Act, which would reduce and prevent burnout, behavioral disorders, and suicide among healthcare professionals. Along with the multiple health systems and at least 23 states that have announced COVID-19 vaccination requirements for healthcare workers, CMS will expand an emergency regulation to require all healthcare staff to be vaccinated against COVID-19.Vaccine-hesitant staff may be more inclined to leave their post in response to these health system, state, and national vaccine mandates.
---
Policy in Development
Rep. Carolyn Bourdeaux (D-GA) led 37 colleagues in a letter to Congressional leadership urging them to prioritize including a permanent, comprehensive fix for the Medicaid coverage gap in the final reconciliation bill. The letter is yet another sign that Medicaid coverage in the reconciliation remains a top concern for Democrats. This letter follows a hearing held by the Senate Finance committee where members debated the tradeoffs between administering a federal Medicaid program in non-expansion states and providing states with flexibility to provide benefits. The clearest threat facing Medicaid expansion is opposition from Sen. Joe Manchin (D-WV), who clearly indicated that he will not support the creation of a new federal program. As a result, Democrats will likely have to craft a slimmed-down Medicaid coverage gap solution that Manchin approves of if they want to include the provision in the final reconciliation bill. Medicaid, along with several provisions, is still being negotiated among Democrats. While Speaker Pelosi wants to bring the infrastructure and reconciliation bills to the floor this week, Democrats have not reached consensus, making the timeline for these bills unclear. Learn more.
In a bipartisan letter, Sens. Manchin, Collins, Shaheen, Tester, Hassan, King, and Bennet requested HHS to follow the intent of Congress for provisions in the American Rescue Plan Act of 2021 (ARPA) to support health providers, specifically $8.5B in funding for rural healthcare providers. The Health Resources and Services Administration (HRSA) has indicated it may overlook the definition of a rural provider outlined in ARPA, allowing large hospitals in large cities to utilize funds intended for rural providers. Congress appropriated $178B for the Provider Relief Fund (PRF) to ensure providers can continue to offer quality care during the COVID-19 pandemic, but only 6% of that funding has gone specifically to rural providers. HRSA said it is planning to begin distribution of ARPA funds in mid-to-late November. Learn more.
Reps. Ron Kind (D-WI) and Tom Cole (R-OK) Introduce the Bipartisan Fairness for Rural Medicare Beneficiaries Act, which would change existing policy that requires Medicare beneficiaries at rural critical access hospitals (CAHs) to pay more in coinsurance than patients who receive the same care at larger acute care hospitals. Notably, the legislation has been endorsed by the National Rural Health Association (NRHA), SSM Health, and the Rural Wisconsin Health Cooperative. The legislation can certainly move forward given the bipartisan support and endorsement – however, it would first need to proceed to the House floor, timing of which remains uncertain. Learn more.
Rep. Paul Tonko (D-NY) and Rep. Bill Huizenga (R-MI) Introduce the Medicare Mental Health Inpatient Equity Act, which would permanently repeal Medicare's 190-day lifetime limit for inpatient psychiatric care, which most private insurance has already removed. A Senate companion of the Medicare Mental Health Inpatient Equity Act is expected to be introduced by Senators Susan Collins (R-ME) and Tina Smith (D-MN). As importantly, the legislation has endorsement from The Mental Health Liaison Group − a coalition of national organizations representing consumers, family members, mental health and addiction providers, advocates and other stakeholders. Accordingly, the legislation has a high likelihood for enactment. Notably, our research shows that future inpatient behavioral health demand is projected to increase nationally at an average annual growth of 0.7% through 2029 Learn more.
Rep. Lisa Blunt Rochester (D-DE) introduced the Behavioral Health Crisis Services Expansion Act, which is meant to empower communities to establish a continuum of care for individuals experiencing mental or behavioral crisis. The bill has companion legislation in the Senate and is receiving bipartisan support. The bill has three cosponsors and has been referred to five committees. Given the bill has a Senate companion and widespread jurisdiction, the bill has a higher chance of forward movement. Notably, supply of behavioral health providers is not growing at a sufficient rate to meet current or future demand for services. Learn more.
---
ICYMI
---
Looking Ahead

November: CMS will continue releasing the final Medicare payment rules for several healthcare settings, following their review completion at the Office of Management and Budget.
November 8-9: The Medicare Payment Advisory Commission will hold a public meeting to discuss ACO benchmark incentives, safety-net provider payment, telehealth, ambulatory setting payment, and Part D for long-term care residents.
Thanks to Katie Patton, Kelly Boyce, and The Vogel Group for their research support.