Prescribing of Certain Opioids Highly Concentrated Among Few Providers in At Least Five States
In the last edition of The Washington Compass, we examined tele-prescribing of certain prescribed controlled substances (i.e., oxycodone and hydrocodone) throughout the COVID-19 pandemic.1 While the majority of tele-prescribing of these drugs was among providers with existing patient relationships, the analysis identified the need to better understand provider prescribing volumes, patterns, and concentrations regionally.
Background
Over the last few weeks, several headlines have focused on tele-prescribing practices for Adderall and other prescription drugs for treatment of behavioral health conditions. Several national pharmacy chains are now refusing to fill Adderall prescriptions from certain tele-pharmacy companies amid a broader discussion of clinical necessity and provider motivations.2,3 Additionally, other research has found that patients who were tele-prescribed antibiotics were more likely to rate their doctors five stars than those who did not raising potential concerns over incentives for over-prescribing via telehealth platforms.4
Analytic Approach
To analyze provider tele-prescribing patterns for controlled substances, we examined the rate of providers prescribing these drugs per 100 patients by state, and the concentration of prescriptions from the top three providers by volume per state. The analysis was limited to patients ages 18 and older that filled a prescription for either oxycodone or hydrocodone within three days of a telehealth visit, using 39 months of data beginning in February 2019. The prescribing provider and telehealth visit provider were the same to avoid conflating the analysis with prescriptions resulting from a different visit in the same time period.
Findings
Nationally, the average rate of providers prescribing hydrocodone and oxycodone per 100 patients filling these prescriptions is 25.8, with a range of 10.7 (Louisiana) to 47 (Montana) (Figure 1). While states with higher rates indicate more providers are tele-prescribing these drugs, states with lower rates suggest a greater concentration of prescriptions among fewer providers.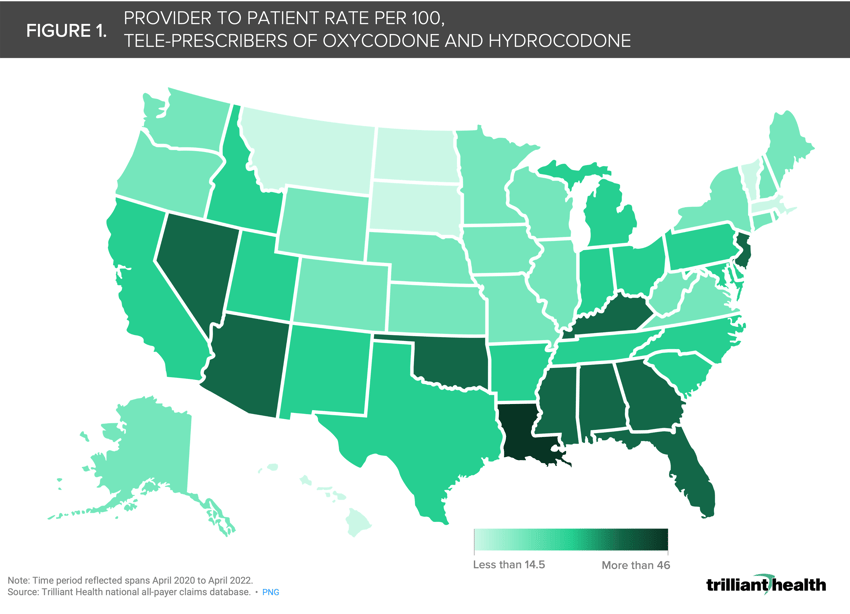 When looking at the top three tele-providers by prescription volumes for hydrocodone and oxycodone, the national average of "concentrated" prescribing volume (i.e., the aggregate percentage of the top three providers in a state, is 10.1%, nationally), ranging from 2.0% (New York) to 59.6% (Washington, D.C.) (Figure 2). Notably, four states (Alaska, Delaware, Idaho, and North Dakota) and Washington, D.C. showed a concentration greater than 17%, indicating a high concentration of prescriptions among a small cohort of individual providers. It is important to note that in the rural states (i.e., Idaho, Alaska, North Dakota), provider supply relative to the population is a limiting factor. Given the location of D.C., patients also receive prescriptions from providers in surrounding states (i.e., Maryland, Virginia).5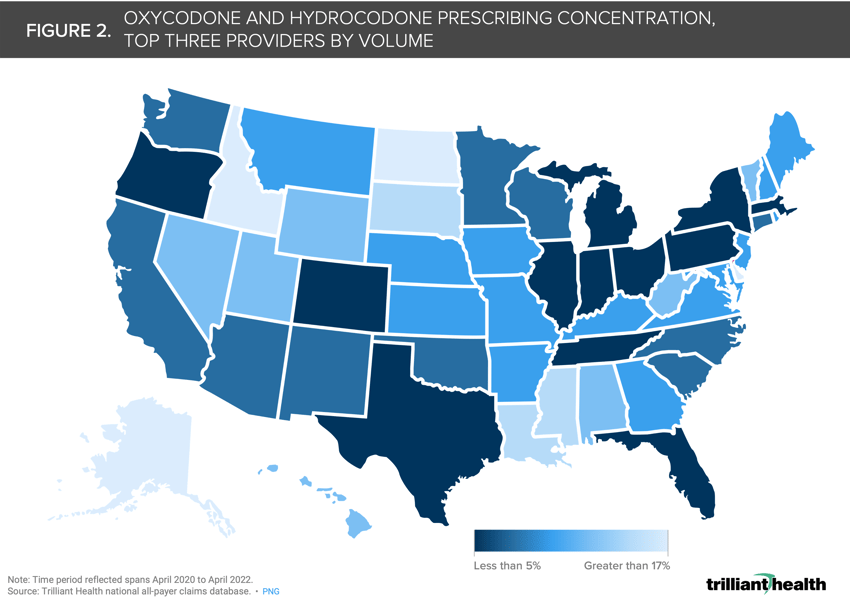 The growing concerns around over-prescribing, provider motivations, and an increase in prescriptions resulting from telehealth create a sense of regulatory urgency, given the potential consequences of overprescribing. How are patient satisfaction scores following these visits contributing to a penchant for unnecessarily prescribing? Post-pandemic policies must measure and subsequently account for fundamental changes in traditional prescribing patterns, and what Congress and regulatory agencies have the ability to influence.
Thanks to Kelly Boyce and Katie Patton for their research support.