Policymaking Considerations Emerging from the 2022 Telehealth Report - Part Two
Part Two: The relationship between broadband access and telehealth adoption
With the passage of the omnibus spending bill by the House on March 9, Congress is expected to extend pandemic-era telehealth provisions (e.g., audio-only, in-home telehealth coverage) for an additional five months following the end of the declared public health emergency (which is also expected to be extended from April to July). With policymakers seeking more insight into the quality, utilization patterns, and outcomes of telehealth, the spending bill directs the Medicare Payment Advisory Commission (MedPAC) to conduct a study of telehealth in Medicare, with CMS scheduled to release quarterly utilization data beginning this summer.
In the last edition of The Washington Compass (Part One), we discussed how the Pareto Principle, aka the 80/20 rule, has direct applications in telehealth and should be considered in policymaking.
With several other sweeping legislative provisions under consideration (e.g., Telehealth Modernization Act), whether pandemic-era telehealth coverage arrangements should be made permanent merits further review. Among the various proposals related to telehealth policy, broadband expansion has been a focal point. Telehealth expansion and connectivity were cited countless times as critical reasons for broadband funding and expansion in the 2021 Infrastructure Package, which allocated $65B towards broadband expansion and improvement in rural areas. The Biden Administration also released $20M for rural telehealth grants in 2021.
In theory, data-driven insight should inform policy. For example, policymakers have asserted that connecting individuals in rural and low-income communities to telehealth can address gaps in accessing in-person medical care. Research has shown that rural counties with limited to access to Primary Care and Behavioral Health also have substantially lower broadband connectivity rates, and insufficient broadband connectivity creates a barrier for accessing audio-video telehealth in many areas. As a result, expansion of audio-only telehealth was cited as a solution, particularly in rural areas.
In practice, just 15.5% of all telehealth patients used audio-only despite the broadened coverage changes across pay types in 2021. While low access to broadband is a shared characteristic of the counties where audio-only visits account for over 50% of all telehealth visits, those counties represent fewer than two percent (2%) of all U.S counties (Figure 1). Even though audio-only telehealth is seemingly preferable in areas with limited broadband, data suggests that it is actually not preferred, calling into question the extent to which audio-video telehealth use would increase in these same areas even if broadband access issues were fully solved.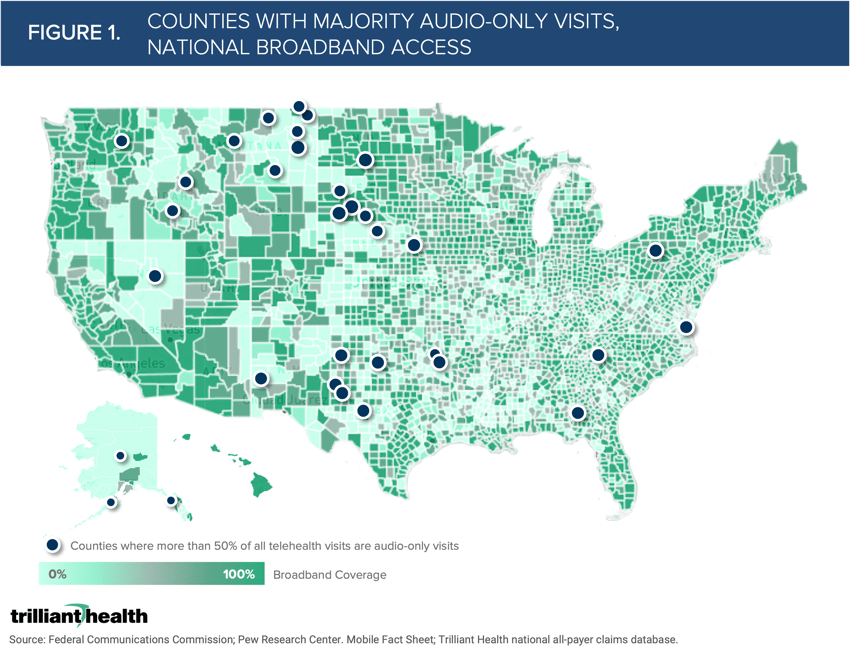 While broadband is certainly a factor affecting telehealth adoption, the data suggests there are more variables that influence patient use of telehealth (e.g., psychographics, demographics, clinical use case). By first understanding the many reasons why these individuals are not increasing telehealth use (e.g., broadband connectivity, awareness, individual preferences), policymakers will be better positioned to make informed policies related to increasing access to quality telehealth solutions in rural areas.
Thanks to Kelly Boyce and Katie Patton for their research support.