Policymaking Considerations Emerging from the 2022 Telehealth Report
Part One: The application of the Pareto Principle to legislative and regulatory telehealth proposals
During the COVID-19 pandemic, state and federal policymakers rapidly, but temporarily, expanded access to telehealth through broadened coverage and parity requirements. Two years into the pandemic, policymakers at all levels of government still lack a clear picture of what future demand will be, who utilizes telehealth, where utilization is concentrated, and how patients prefer to access healthcare services. Nevertheless, Congress is considering numerous proposals to make permanent several pandemic-era telehealth policy expansions.
Permanent expansion of telehealth in Medicare has garnered substantial bipartisan support and is the primary telehealth-related policy priority, with 45 lawmakers urging congressional leadership to extend coverage authorities through "must-pass" fiscal year (FY) 2022 appropriations legislation. With the funding deadline extended to March 11, lawmakers continue to advocate for inclusion based on the core, but likely mistaken, assumption that telehealth use is widespread. These sentiments were also shared by over 300 organizations advocating for telehealth expansion (Figure 1).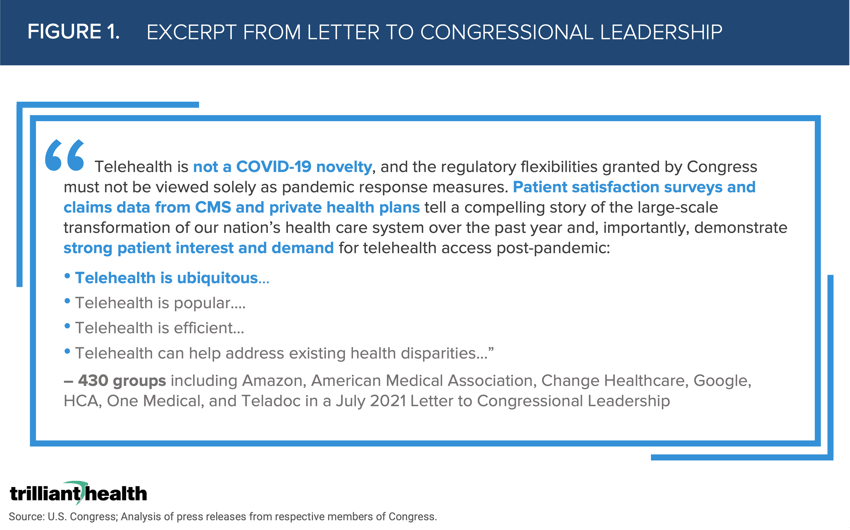 As the decision of whether to permanently expand certain or all pandemic-era policies is debated, our recently published Telehealth Trends Report offers insights to guide evidence-based decision making. While several data points have previously been offered, most conclusions are grounded in small sample surveys, analyses of a limited population segment (e.g., single health plan), and conflated calculations that do not account for mid-pandemic changes in telehealth definitions and reimbursement criteria. As a result, policymakers (and other stakeholders) have been led to extrapolate discrete data points to the entire U.S. population.
Through our national, longitudinal analysis of telehealth utilization, a notable finding emerged that casts doubt on the rationales (e.g., perceived patient demand for telehealth) underlying existing proposals: The 80/20 Rule (also known as the Pareto Principle) applies to telehealth, and this reality should be accounted for in policy decisions.
The Pareto Principle, which states that 80% of consequences are attributed to 20% of the causes, is a useful heuristic to assess many policy decisions in healthcare, such as: 80% of healthcare expenditures are attributed to patients with at least one chronic condition; the share of Medicare costs attributed to end-of-life care; and social determinants of health driving 80% of health outcomes.
Similarly, our study suggests that telehealth follows the Pareto Principle. Among the study's key findings was that only 25.6% of Americans utilized a telehealth modality under the broadest definition of telehealth (i.e., audio-video, audio-only, chat, etc.). In contrast, almost 75% of Americans have not used telehealth during the pandemic.
The Pareto Principle is best illustrated by the study's utilization framework, which segmented telehealth patients by visit frequency (Figure 2). Our utilization segmentation framework includes individuals from multiple coverage sources, thus providing a more complete characterization of telehealth use in the U.S. Seventy-nine percent of telehealth patients had between one and four visits between 2020 and 2021, with the remaining 20.6% falling into the Average (five to six visits), High (seven to 24 visits), and Super (25 or more visits) Utilizer segments. Notably, this 20.6% of patients generated 68% of all telehealth visits in 2020 and 2021.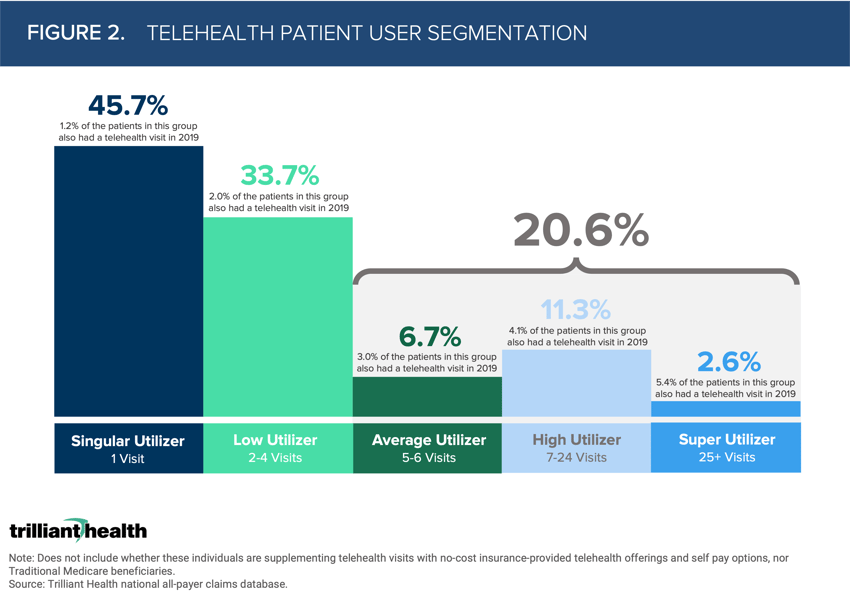 Congress is now considering significant changes to longstanding healthcare policy based upon the thesis that telehealth is preferred among most Americans, when in fact data suggests that such changes would primarily benefit a small cohort of the population, most of whom have ample access to healthcare services. And so, instead of developing healthcare policy tailored to meet the needs of a cohort of the population, Congress is once again considering implementing policy that extrapolates what is true about a limited cohort to all Americans.
Whether or not telehealth expansion is included in the eventual FY 2022 appropriations package or via standalone legislation, advocacy efforts would be stronger with data-backed context. In the process of deciding which proposals to advance and the magnitude of those expansions, lawmakers should first understand how much of the population those decisions will impact.
In the next edition of The Washington Compass, further data-driven commentary on common assumptions (e.g., broadband limitations) telehealth underlying current lawmaking and advocate efforts will be provided.
Thanks to Kelly Boyce and Katie Patton for their research support.