Medicare Home Health Payments Increasing Despite Declining Volumes and Flat Patient Satisfaction
It is generally understood that the COVID-19 pandemic facilitated increased adoption of certain care models that were not previously widely deployed by providers or utilized by patients, such as telehealth. While not as widely discussed, reimbursement for home health increased during the pandemic, which has resulted in increased interest from investors, particularly in the area of digital health investments. Notably, UnitedHealth Group, the payer with the largest share of Medicare Advantage (MA) enrollment, is poised to acquire home health company, LHC Group. However, the longevity of expanded and/or increased reimbursement for these care models post-COVID-19 is uncertain.
Earlier this month, the Medicare Payment Advisory Commission (MedPAC) issued its March 2022 Report to Congress, offering draft recommendations to the Medicare program, which will be finalized in a subsequent June report. Among various topics, MedPAC analyzed utilization and payment levels of home health services in traditional Medicare through 2020.
While Medicare enrollment increased, the number and share of Medicare beneficiaries using home health declined by almost 10% from 2017 to 2020 (Figure 1). Despite declining utilization, payments per home health user steadily increased, offering another example of Medicare payments being driven by price rather than volume.
Furthermore, survey-based experience measures, in the form of Home Health Care Consumer Assessment of Healthcare Providers and Systems (HH–CAHPS) surveys, reveal consistent satisfaction levels among traditional Medicare beneficiaries. Between 2017 and 2019, overall positive patient experience measures averaged above 80% (Figure 1). The survey response rate in 2019 was just 27%, however. And as written before, self-reported data is markedly different from data reflecting beneficiary choice.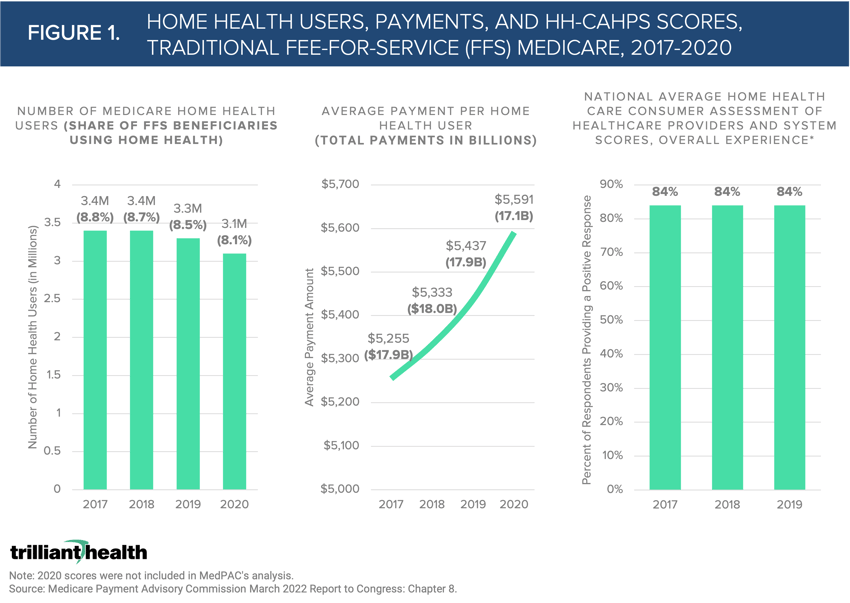 The MedPAC report indirectly reveals that the 11.3 percentage point reduction in successful discharges from 2019 to 2020 is in large part attributed to a higher percentage of COVID-19-related deaths following or prior to discharge in 2020 (Figure 2). In turn, that suggests that home health utilization by traditional Medicare beneficiaries also declined from 2020 to 2021, amplifying the misalignment between increasing reimbursement for a service with declining demand.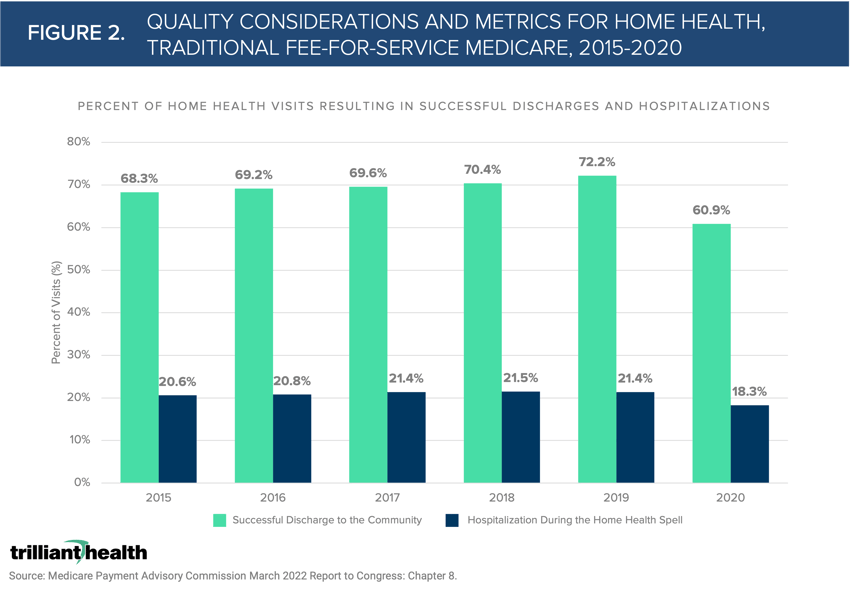 Viewed in isolation, the data in Figure 1 is problematic: CMS continues to increase reimbursement for a service that Medicare beneficiaries report unchanging satisfaction while utilizing less of it year over year. However, these trends in traditional Medicare are inadequate to inform policy because they do not account for home health utilization by MA beneficiaries, who by 2023 will likely account for over half of Medicare enrollment. Notably, increasing investor interest in the home health sector suggests that Wall Street is focused on something other than the declining utilization numbers cited by MedPAC.
With each segment of the health economy relying on different inputs, perhaps a more important question is to what extent should Congress primarily rely on MedPAC's analysis of traditional Medicare as the foundation of reimbursement policies for Medicare beneficiaries without the same level of visibility into MA utilization?
Thanks to Katie Patton for her research support.