Growth in Medicaid Expenditures Tracks with Increased Investment Activity
Although venture capital (VC) and private equity (PE) firms have not traditionally invested in the Medicaid sector, investment activity in this sector is growing rapidly. Despite comparatively low reimbursement rates, high patient churn, more medically complex beneficiaries, and inconsistent regulatory frameworks at the state level, it is increasingly difficult for VC and PE firms to ignore consistent growth in aggregate and per-beneficiary expenditures, as well as enrollment, as illustrated in recently updated National Health Expenditure data released by the Centers for Medicare and Medicaid Services (CMS).
Medicaid spending increased 9.2% to $671.2B in 2020, a growth rate higher than both Medicare (+3.5%) and private health insurance (-1.2%) spending. Today, Medicaid spending represents 16% of all national health expenditures. Moreover, CMS estimates that per Medicaid beneficiary spending was $8,836 in 2020, a rate that is both higher and increasingly more rapidly than equivalent spending in employer-sponsored plans (Figure 1).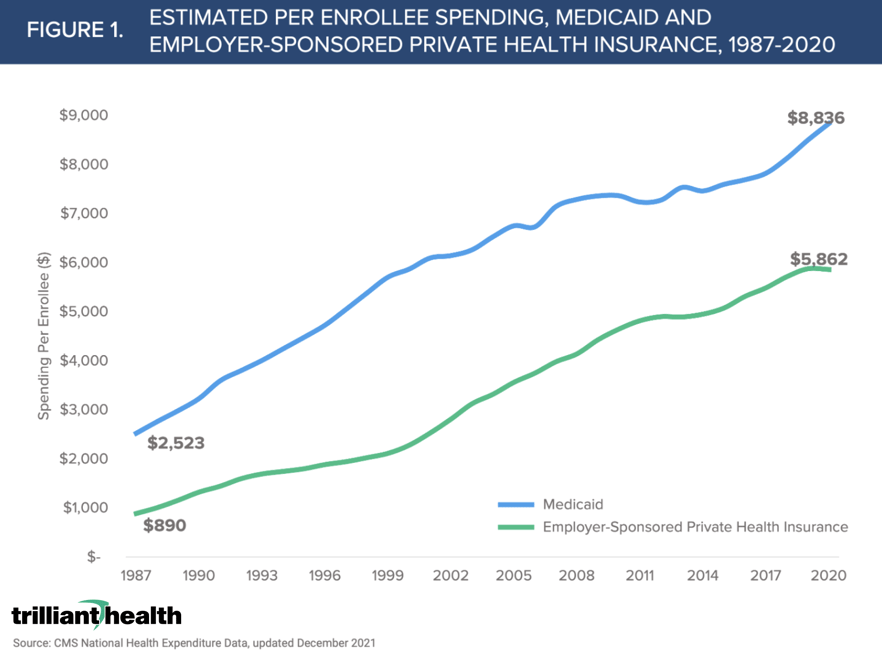 From a regulatory perspective, new entrants catering to the unique needs of Medicaid beneficiaries can anticipate partnership support from CMS. In its most recent strategic plan, the CMS Innovation Center outlined its intentions to collaborate with industry partners looking to improve access, health equity, and affordability. While investors will likely be scrutinized by CMS about potential conflicts between the financial interests of investors and the clinical interests of patients, health economy participants that demonstrate the ability to address specific challenges unique to Medicaid beneficiaries will be well positioned to succeed.
Given the growing market opportunity, VC and PE firms have increased the number and size of investments in Medicaid-centric companies in recent years. Many of these companies, from early entrants like Cityblock to recently funded Waymark, are designing technology-enabled solutions to address systemic barriers at scale in the Medicaid program (Figure 2). Low-income Medicaid beneficiaries are characteristically more medically complex, have limited provider networks, and experience reduced access to complementary support services (e.g., nutrition support, medication management services, transportation). Ultimately, companies serving the Medicaid market seek to increase access to social services that complement medical care while reducing preventable and high-cost care (e.g., frequent emergency department visits), thereby reducing downstream costs at the individual and Medicaid program level.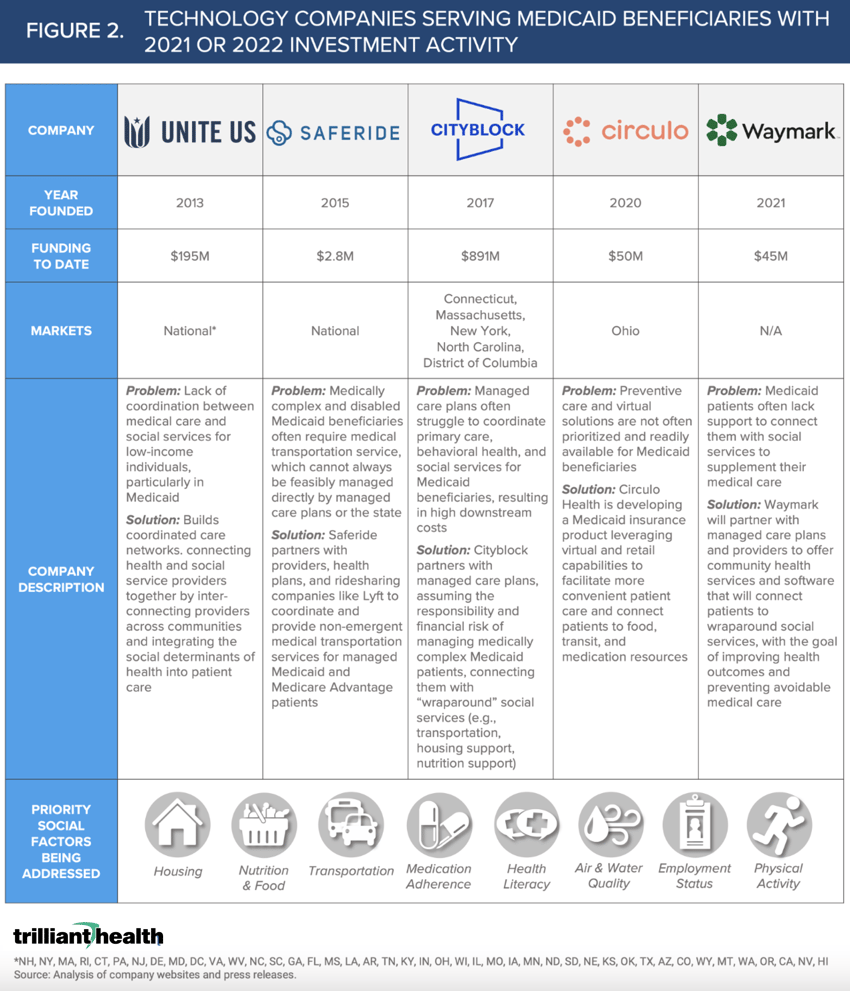 The industry often generalizes the needs of patient populations at the payer level (e.g., Medicaid vs Medicare). Ultimately, the success of these newly funded Medicaid-focused companies will hinge upon their understanding of Medicaid beneficiaries as consumers with varying needs, behaviors, and preferences influencing their healthcare decisions. Given these companies work across markets, it is imperative that they understand the nuances of the sub-populations they serve at the Zip Code level. In subsequent research, we will explore the consumer and SDOH-level differences between Medicaid populations in geographically different markets.
Thanks to Kelly Boyce and Katie Patton for their research support.