Beneficiary Preferences Are an Overlooked Aspect of Medicare Advantage Plan Evaluations
With a third of Medicare beneficiaries now enrolled in Medicare Advantage (MA) and Medicare spending projections soaring amid the aging U.S. population, scrutiny of the MA program (e.g., risk score gaming) has increased. Historically, industry conversations have focused on MA plan performance, plan payment, and program costs, with little consideration given to the consumer preferences of an individual Medicare beneficiary.
The Centers for Medicare and Medicaid Services (CMS) measures and assesses MA plan quality in the form of Star Ratings, which are intended to be a proxy for plan quality and are therefore a key factor in beneficiary plan choice. Through rulemaking in 2020, CMS enhanced the weighting of beneficiary experience measures in the Star Ratings methodology, which will become fully effective for the 2023 plan year. By increasing the impact of consumer experience in Star Ratings, CMS is taking steps to align with the broader principle that patients are consumers.
As a general notion, the payer industry overall continues to fall short on customer experience metrics, indicating that simply measuring consumer preferences is insufficient to increase the beneficiary experience portion of Star Ratings. MA plans that proactively analyze the consumer attributes of their enrollees in the context of the individual markets they serve will be more likely to retain and obtain loyal plan members.
To analyze the consumer characteristics across MA plans, we compared attributes for Medicare beneficiaries enrolled in MA plans that received high (4.5-5) and low (3.5 and below) Star Ratings for 2022. We identified plans associated with two carriers operating in both the Florida and Texas markets and segmented beneficiaries in each plan using attributes including generation, psychographics, race, "business of health index", and average household income. We decided to assess the extent to which inherent consumer attributes, beyond measurable demographic characteristics, influence the beneficiary satisfaction aspects of Star Ratings.
As Figure 1 demonstrates, the lack of uniformity across consumer attributes in similarly rated plans reflects the need for plans to tailor plan designs, marketing, and outreach at not only the market level, but also the consumer level. Improving on beneficiary satisfaction ratings can only begin by looking internally and assessing the unmet needs of Medicare beneficiaries already enrolled in a plan.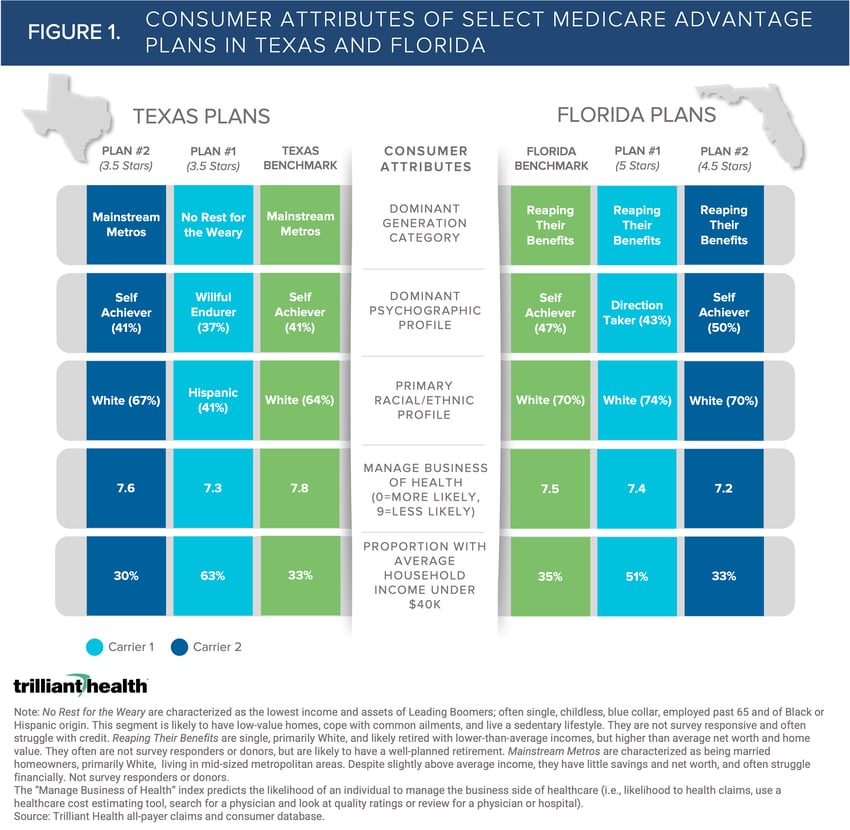 For example, a high proportion of beneficiaries enrolled in the 3.5-star Texas plan are deemed the "No Rest for the Weary" generational category, which characteristically do not respond to surveys, are more medically complex, and lower income. With this insight, plans can tailor benefit design and communication tactics to increase plan satisfaction for beneficiaries with these consumer attributes. Notably, survey responsiveness in a population is a crucial attribute to understand, given the importance of surveys in measuring beneficiary satisfaction. Alternatively, the 5-star Florida plan has a disproportionate amount of Direction Takers (43%), a much higher proportion than the Florida (21%) and national (14%) averages. This psychographic segment overwhelmingly looks to physicians and healthcare providers when making decisions, which could influence how they rate their plan satisfaction. There is not uniformity in household income, which underscores the importance of looking beyond demographics and unpacking individual consumer preferences and attitudes.
---
Policy In Focus
With just a few more days left in the regularly scheduled session, Congress still must address the debt ceiling, the Build Back Better Act (BBBA), and the National Defense Authorization Act (NDAA) before leaving Washington. In response to preliminary court injunctions, CMS has suspended the healthcare COVID-19 vaccination mandate, which would have required full vaccination by January 4. Congress must raise or suspend the debt limit by December 15 to avoid default and ensure Medicare benefits and other programs remain funded.
While Democratic leadership aims to send the BBBA to President Biden's desk for signature before year end, Senate Democrats face hurdles to passing the bill in this timeframe. Senate Majority Leader Schumer (D-NY) is planning to bring the bill to the floor as soon as next week. The bill, at present, includes $75B in Affordable Care Act enhancements, $33B to close the Medicaid coverage gap, $37B to expand Medicare hearing coverage, and $165B for long term care and Medicaid provisions. These costs will be offset by the estimated $300B in prescription drug savings. Changes to the House-passed bill are likely in order to accommodate progressive and moderate priorities. Adjustments will also have to be made to comply with the Byrd rule, to pass the package via the budget reconciliation process, which allows Democrats to prevent a Republican filibuster. For the bill to pass under this process, every Democratic caucus member must vote for the package and Vice President Harris will need to cast the tie-breaking vote in the 50-50 split Senate. While Schumer is confident this timeline will play out, comments from Senator Sinema (D-AZ) and Senator Manchin (D-WV) suggest the vote may have to wait until 2022.
Administration Announces Initiatives to Reduce Maternal Mortality and Morbidity
On December 7, the Administration announced a call to action comprising of several Congressional and administrative efforts to address the maternal mortality and morbidity crisis. Maternal health provisions are included in the pending BBBA, including $3B for maternal health funding, continuous 12-month Medicaid postpartum coverage, and provisions permitting states to establish maternal health homes. Notably, last week President Biden signed into law the Protecting Moms Who Serve Act, which allocates $15M toward enhancing maternal care for veterans. In concert, at the agency level, CMS issued guidance to permit states to apply for extended postpartum coverage (up from six weeks to 12 months) and will propose establishment of the first hospital quality designation focused solely on maternity care. Learn more.
Insight: Addressing maternal mortality has been a longstanding priority for Vice President Kamala Harris, particularly during her tenure in the Senate. These initiatives reflect this Administration's priority to improve maternal health outcomes to remedy the fact that the U.S. has the highest maternal mortality rate across wealthy nations. These initiatives take a holistic approach to addressing this issue, focusing on coverage expansion, improved access to and quality of care, and workforce improvements. If provisions in the BBBA are passed in their current state, the $3B investment in maternal health would represent the largest appropriation by Congress for this purpose. This investment would come at a time when private investments of burgeoning women's health companies are at historically high levels.
CMS Issues Fee-for-Service Medicare Telehealth Utilization Report
On December 3, HHS's Office of the Assistant Secretary for Planning and Evaluation (ASPE) released a report analyzing Medicare fee-for-service (FFS) beneficiary telehealth utilization in 2020 amid the COVID-19 pandemic. The study outlines that while in-person Medicare visits decreased in 2020 compared to 2019, telehealth visits increased 63X in 2020 compared to 2019. The volume increase was not sufficient to offset the loss of in-person care. Regionally, Massachusetts, Vermont, Rhode Island, New Hampshire and Connecticut had the highest 2020 telehealth utilization, while Tennessee, Nebraska, Kansas, North Dakota and Wyoming saw the lowest utilization. Learn more.
Insight: The pandemic's influence on telehealth utilization has been a key industry focus since the declaration of the public health emergency. Much has been published about commercial use of telehealth, while this report is one of the first detailed analyses of FFS Medicare utilization of telehealth. Notably, our analysis shows that from October to December 2020 to post-peak months of January to March 2021, there was a 13.3% drop in telehealth visit volume. This decline is notable given some forecasts that telemedicine is a substitute good, one that consumers will increasingly and even rapidly adopt. Given HHS temporarily waived many telehealth restrictions in Medicare for the duration of the declared PHE, long-term coverage decisions will benefit from insight not only into telehealth utilization data (where much of the focus has been thus far), but perhaps more importantly, the clinical utility of diverse telehealth capabilities and the characteristics and preferences of the users (e.g., men vs women beneficiaries) themselves. A key insight from the report notes that only 2% of Part B specialty visits and 8% of primary care visits in 2020 were delivered via telehealth, compared to over 38% of behavioral health visits, suggesting telehealth may only be a viable substitute for select service types.
---
Policy in Development
Rep. Bobby Rush (D-IL) and Rep. Gus Bilirakis (R-FL) introduced the Medicare Stability for Patients and Providers Act, which would prohibit Medicare reimbursement cuts for specialists providing treatment for cancer, kidney failure, artery disease, and other diseases. It would ultimately prohibit CMS from partially implementing the 2022 Physician Fee Schedule rule in relation to updating clinical labor data. While the legislation has bipartisan support, Congress has a limited window and will be focused on addressing must-pass legislation before adjourning for 2021. Accordingly, the House Ways and Means Committee and the House Energy and Commerce will likely consider the legislation in 2022, upon reintroduction. Learn more.
Rep. Brian Fitzpatrick (R-PA) and Rep. Seth Moulton (D-MA) introduced the Healthcare Extension and Accessibility for Developmentally Disabled and Underserved Population (HEADs Up) Act of 2021, which would distinguish people with intellectual and developmental disabilities as a medically underserved population under the Health Resources and Services Administration (HRSA), which operates healthcare programs for individuals who are medically underserved because of geographic isolation, economic reasons, or otherwise are medically vulnerable. The HEADs Up Act seeks to remove barriers to care that have prevented those with intellectual or developmental disabilities from receiving care in the past. The bill currently has three bipartisan co-sponsors and has been referred to the House Energy and Commerce Committee. The committee has not worked on the bill since November 23, and, with limited legislative days left until the end of the year, the bill will likely not be considered. The bill can be reintroduced next year if still a priority for the sponsors. Learn more.
Reps. Diana DeGette (D-CO) and Fred Upton (R-MI) introduced their Cures 2.0 legislation, which aims to accelerate medical research and patient access to novel therapeutics. This legislation is a finalized version of the discussion draft of the bill introduced in June. This new version notably includes feedback from stakeholders. Cures 2.0 would establish President Joe Biden's Advanced Research Projects Agency for Health (ARPA-H) proposal within the National Institutes of Health. At this point, the legislation is unlikely to be considered by the end of the year given the limited number of days left in this legislative session. Cures 2.0 will likely be a priority in 2022 because of the broad support for the bill from both sides of the aisle. Learn more.
---
ICYMI
Thanks to Kelly Boyce, Katie Patton and The Vogel Group for their research support.