Vast Majority of Benefit-Eligible Veterans Obtain Care Outside of the Veterans Health Administration
Last week, America celebrated Veterans Day, and we join in honoring the selfless service of all of those who have ever served in the United States military.
Much has been written about the challenges of the Veterans Health Administration (VHA), from patient safety, provider staffing, health record management, and administrative efficiency. Moreover, there has not been a Senate-confirmed Under Secretary of Veterans Affairs for Health since 2018. However, given renewed priorities, the Department of Veterans Affairs (VA) has recently assembled a commission to recommend candidates to lead the VHA.
We decided to analyze the relationship between veterans and their preferred provider entity to understand how the VHA's challenges have impacted the healthcare choices of our nation's veterans. According to U.S. Department of Veterans Affairs, there are approximately 19M veterans, but the VHA serves less than 10M of them. Pursuant to the Veterans Choice Acts of 2014 and 2018, eligible veterans can seek care outside of the VA.
To quantify how much and what types of care are being delivered outside the system, we identified individuals with at least one encounter at a VHA facility, reflecting their ability and eligibility to receive VHA healthcare services at a point in time between 2017 and 2021. Among these veterans, we analyzed the proportion of physical therapy, primary care, inpatient medical, and surgical care obtained through either a VHA or non-VHA facility.
We found that the vast majority of all veterans obtained care through both the VHA and non-VHA providers, rather than VHA facilities exclusively, with utilization of non-VHA providers increasing with age. Inpatient medical care showed the greatest variation by age. While just under 70% of veterans ages 45-64 sought inpatient medical care at non-VHA facilities, over 80% of veterans ages 85+ sought inpatient medical care at non-VHA facilities.
Furthermore, our analysis suggests that only 16% of veterans consider the VHA to be their preferred service entity. Of that small number, 67% are loyal to the system. In contrast, the 84% of veterans whose preferred service entity is a provider other than the VHA, slightly more than 50% are loyal to that provider entity (i.e., utilizing that provider for more than 70% of their care).
The data clearly suggests that veterans receive care from a larger number of providers than the typical American healthcare consumer, suggesting that care coordination is suboptimal for veterans. Not surprisingly, veterans over-index for the Direction Taker psychographic profile, which applies to almost 25% of veterans in comparison to the national average of 14.3%. Direction Takers believe their physician is the most credible resource for their healthcare needs and value their physician/healthcare professional's guidance. This correlates with the high loyalty associated with veterans that consider the VHA their preferred healthcare entity. What is troubling about this data is that it suggests that care coordination is even more fragmented for the more than 75% of veterans who are not Direction Takers.
Delineating whether veterans are loyal or are splitting care due to preference (e.g., convenience) or a broader system issue (e.g., provider staffing, scheduling) is a key input for VHA reform. More importantly, data-driven insight into the relationship between loyalty and utilization trends among veterans seeking care at VHA facilities versus non-VHA facilities can better inform policies designed to improve access and satisfaction with care. Consideration for this analytic framework at the local level will further ensure resources are allocated to the geographic areas with the highest degree of need.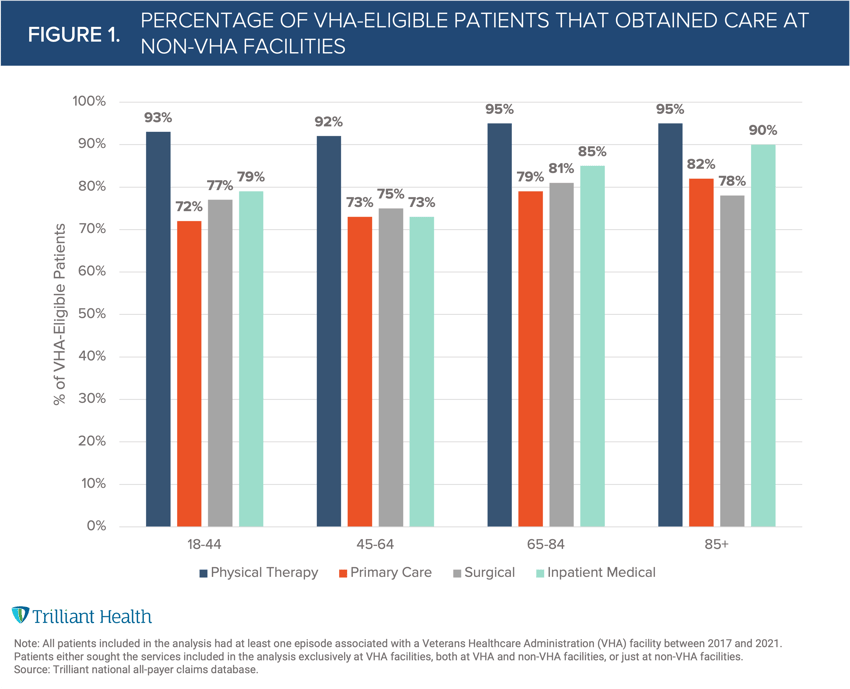 ---
Policy In Focus
Following months of negotiation, President Biden signed the bipartisan Infrastructure Investment and Jobs Act into law. The House passed the Infrastructure Investment and Jobs Act after moderate Democrats pledged to vote for the Build Back Better Act (BBBA) by the week of November 15, pending scoring from Congressional Budget Office (CBO). CBO is expected to provide a complete cost analysis of the BBBA by Friday, if not sooner, which may push the vote to the weekend or early next week.
House Democrats have already made some headway on the BBBA and released revised legislative text out of the House Rules Committee on November 3, which includes new hearing assessment services, management of hearing loss and related treatment to Medicare beginning on January 1, 2023.The new text maintains provisions to extend the enhanced American Rescue Plan Act (ARPA) subsidies for marketplace coverage, but would reinstate the annual indexing premium contributions starting in 2027. The BBBA also includes the Capping Drug Costs for Seniors Act, which would restructure Medicare Part D benefit to cap patient's out of pocket costs, establish penalties for price increases that outpace inflation in Medicare, increase transparency by establishing reporting requirements for PBMs, and authorize HHS to negotiate directly for prescription drug prices. The BBBA also includes language that would permanently extend the health coverage tax credit.

Under the existing schedule, the House and the Senate will be in session for 11 and 13 days, respectively, with a list of must-pass legislation - National Defense Authorization Act (NDAA), raising the debt limit, and government funding - before adjourning for the holidays. While all these items are critical, Speaker Pelosi remains focused on ensuring the BBBA is passed before the House leaves Washington.

CMS OPPS/ASC Final Rule Increases Price Transparency, Patient Safety and Access to Quality Care
On November 2, CMS released the Calendar Year (CY) 2022 Hospital Outpatient Prospective Payment System (OPPS) and Ambulatory Surgical Center Final Rule. Starting January 1, CMS will increase penalties for noncompliance with hospital price transparency requirements under final rule. CMS is setting a minimum civil monetary penalty of $300 per day that will apply to smaller hospitals with a bed count of 30 or fewer, and a penalty of $10 per bed per day for hospitals with a bed count greater than 30, not to exceed a maximum daily amount of $5,500. Additionally, CMS will reinstate the CY 2021 inpatient-only (IPO) list following a review of the 298 procedures removed in 2021. The CY 2022 Hospital OPPS and ASC Payment System final rule will also increase Medicare hospital outpatient reimbursement by 2% starting next year. The increase only applies to hospitals that meet quality reporting requirements and reflects a projected hospital market basket increase of 2.7%, reduced by 0.7 percentage point for the productivity adjustment. Learn more.
Insight: CMS requested comments from industry stakeholders and, not surprisingly, AHA urged CMS to reverse two policies finalized in CY 2021. The first policy halts the elimination of the IPO list and adds back to the IPO list nearly all of the services removed in 2021. The second reinstates several patient safety criteria for adding a procedure to the ASC covered procedures list that were in place in CY 2020 and prior. CMS' rule also maintained the payment rate of average sales price minus 22.5% for separately payable drugs or biologics for certain hospitals that participate in the 340B program.
Rep. Bill Pascrell (D-NJ) Implores Federal Trade Commission (FTC) to Increase Scrutiny of Growth of Private Equity (PE) Ownership in Healthcare
In a letter to FTC Chair Lina Khan, Rep. Pascrell urged the FTC to increase oversight of private equity's growth in the American healthcare sector. Rep. Pascrell wrote that "evidence suggests that the increased role of PE in health care jeopardizes patient safety and weakens competition." The letter requested an update from the FTC on the issue and a briefing for Rep. Pascrell's staff. Learn more.
Insight: Rep. Pascrell, Chairman of the House Ways and Means Subcommittee on Oversight, has led efforts to monitor compliance of PE and Wall Street. Rep. Pascrell also introduced the Carried Interest Fairness Act of 2019, H.R. 1068. The legislation would close the loophole allowing PE firms to pay lower capital gains rates on their income. This letter is another piece of Rep. Pascrell's long journey to help retailers struggling to compete with unregulated PE practices. Notably, the Medicare Payment Advisory Commission (MedPAC) has discussed heightened oversight and regulation of PE, citing individual transactions that may be too small to qualify for certain antitrust reporting thresholds but can significantly impact competition for the broader industry.
---
Policy in Development
Sens. Jerry Moran (R-KS), Steve Daines (R-MT), Tina Smith (D-MN) and Jacky Rosen (D-NV) introduced the Expanded Telehealth Access Act, which would codify expanded Medicare access to telehealth allowed in response to COVID-19. In response to the pandemic, HHS waived several telehealth restrictions (e.g., geography, originating site, service type, and modality) for traditional Medicare beneficiaries for the duration of the public health emergency (PHE). Notably, CMS extended this through the end of 2023 in the recently published Medicare Physician Fee Schedule final rule. The Expanded Telehealth Access Act makes permanent the reimbursement eligibility for physical therapists, audiologists, occupational therapists, and speech language pathologists and also permits the HHS Secretary to expand this list. The legislation is supported by several organizations including the American Telehealth Association, the American Physical Therapy Association, the American Speech-Language-Hearing Association, and more. The vast support for the bill so far shows that the Expanded Telehealth Access Act could see future movement. However, the bill is competing with the tight timeline and higher-priority legislation before the end of the year. Learn more.
The Oral Health Literacy and Awareness Act, introduced by Reps. Gus Bilirakis (R-FL) and Tony Cárdenas (D-CA), was voted favorably out of the House Energy and Commerce Committee, Health Subcommittee. This bill would direct HRSA to develop an oral health literacy strategy for underserved communities that would reduce oral disease prevalence and provide preventive education through a five-year oral health literacy campaign. The legislation is supported by several groups including the Academy of General Dentistry, American Academy of Dental Group Practice, and the American Academy of Oral and Maxillofacial Pathology, among others. Broad Congressional support of the bill indicates its potential for advancement. However, legislative priorities like social spending, year-end appropriations, and addressing the debt limit will take precedent in the coming months, thus limiting potential for this bill to advance further in the near term. Learn more.
---
ICYMI
Thanks to Kelly Boyce, Katie Patton and The Vogel Group for their research support.