Telehealth as a Substitute Good for Medicaid Beneficiaries
As a health economist, I am interested in the ways in which certain medical services constitute a "substitute good" for other medical services, particularly in the context of access, cost and quality. Non-emergency medical transportation (NEMT) benefits have been recognized as a critical component to expand care access for patients with complex health and social needs. The growing number of ride-sharing company partnerships continues to expand NEMT options for eligible beneficiaries. The Medicaid-funded benefit was further codified by Congress into federal statute under the Consolidated Appropriations Act of 2021, nullifying former proposals that sought to change NEMT from a mandatory to an optional Medicaid benefit. However, because Medicaid is managed at the state level, there is significant variability in the eligibility for, financing of, and delivery of NEMT benefits.
Some services delivered to patients utilizing NEMT benefits could be delivered remotely (e.g., primary care, behavioral health). With more than 75.4M Americans now covered by Medicaid as of April 2021, we can expect renewed discussion around the structure and financing of benefits such as NEMT. Thus, the expanded access to telehealth (both temporary and permanent) in Medicaid raises the question of whether telehealth might substitute for and/or supplement NEMT benefits within this high-need patient population.
To examine this relationship, we analyzed NEMT and telehealth utilization longitudinally for Medicaid beneficiaries among five states – Arizona, California, Kentucky, Indiana, and Ohio – with varying NEMT service delivery models and geographic diversity. As expected, the number of unique Medicaid patients utilizing NEMT services declined at the onset of the COVID-19 pandemic in March 2020, while telehealth utilization temporarily increased. Despite this trend, only 12.4% of beneficiaries that used NEMT prior to the pandemic substituted this care with telehealth services, whereas an even smaller group (2.5%) supplemented NEMT use with telehealth visits. While telehealth is a more popular alternative for certain visit types (e.g., behavioral health), the majority of transportation-utilizing beneficiaries (54.3%) paused NEMT services, rather than seeking an alternative for those intended visits.
As states consider the future of already strained Medicaid budgets amid a growing number of beneficiaries, it is inevitable that policymakers will revisit the cost-benefit analysis of benefits such as NEMT in comparison to other lower cost, access-expanding benefits such as telehealth. Given its statutory requirement as a mandatory benefit, states must continue to offer NEMT services to enable disabled and medically complex Medicaid beneficiaries to access care. Even so, how states effectively manage the transportation benefit in the post-pandemic health economy will require data-driven insight into the characteristics (e.g., broadband access) and preferences of the beneficiaries leveraging such benefits, the nuances of which we will explore in future research.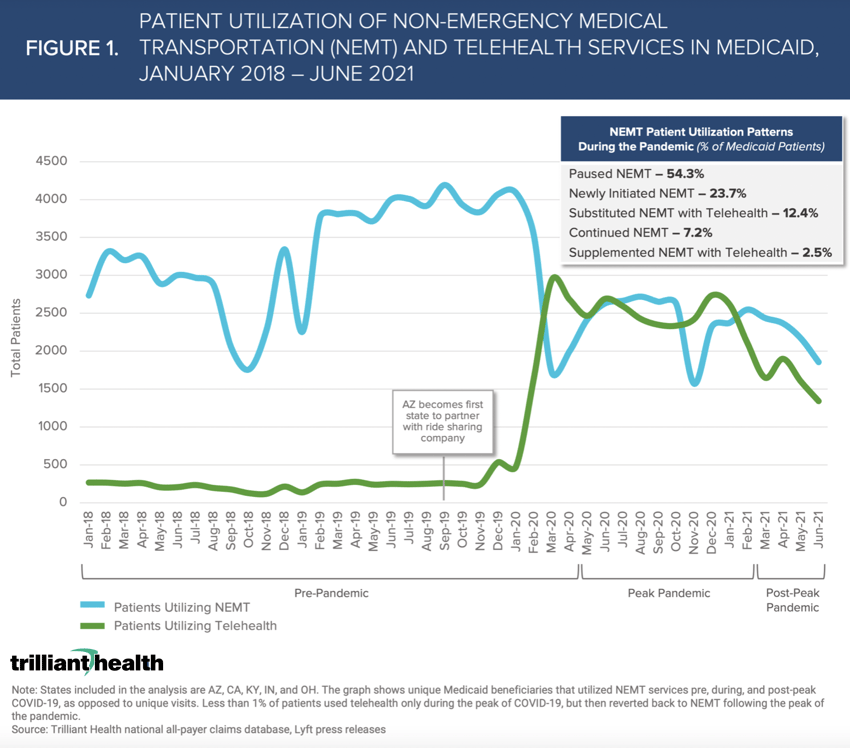 ---
Policy In Focus
Last Thursday, President Biden signed a short-term spending bill extending federal funding through early December. The next legislative hurdle will come when the U.S. next reaches the debt limit, which will likely occur on October 18 according to Treasury Secretary Janet Yellen. While Congress was able to pass legislation to avert a government shutdown, debate over the bipartisan infrastructure and budget reconciliation packages continue.
In the coming days, provisions related to drug pricing will receive significant attention as progressives and moderates try to find compromise. Speaker Nancy Pelosi (D-CA) may have to scale back plans to allow direct government drug price negotiation and make fewer drugs subject to Medicare negotiation. Democrats who voted against a measure enabling Medicare to negotiate for lower prescription drug costs have received assurances that changes are underway in the budget reconciliation package.
Progressives and moderates will need to compromise on changes to Medicare and Medicaid, with progressives asserting that Medicaid relief should take priority over expanding Medicare to include dental, vision, and hearing benefits. Most importantly, as negotiations over drug pricing continue, a recent survey from Morning Consult found that 56% of voters generally support direct government drug price negotiation, while 50% support including the measure in congressional Democrats' budget reconciliation package. With the ongoing debates on drug pricing, key players in the health economy continue to bolster their presence in Washington. Recently, Pfizer added two government affairs firms to its roster, including a staffer who previously served as Director of Legislative Affairs for former Vice President Biden.
HHS Issues Rule Implementing the No Surprises Act
The No Surprises Act, which takes effect on January 1, 2022, requires out-of-network providers to obtain explicit, informed consent regarding a patient's payments from a planned episode of care. As part of implementing the law, HHS has issued the second of two rules required under the law. The newest interim final rule (IFR) issued on September 30 establishes the structure of the billing arbitration process. The rule details that medical cost disputes should be settled by an arbitrator if health insurers and medical providers cannot agree on the cost of the treatment or service independently. Learn more.
Insight: The No Surprises Act and the subsequent rules have been a concern to hospitals and emergency department (ED) physicians given the tight timeline to prepare billing departments by 2022. These regulations have yet to establish requirements for a number of details, including interim payments to providers. The independent dispute resolution process has garnered higher praise from the insurance industry, and already has seen pushback from providers. The IFR will likely see opposition from hospitals and health systems given the qualified payment amount defined in the proposed rule reflects a median rate set by insurers, which hospitals may argue do not adequately represent actual cost. The IRF will ultimately negatively impact annual revenue for ED services. Given that there are 150M annual ED visits, even a small percentage could generate considerable "friction" in the payment system.
Hospital Groups Push Back on Proposed Rule to Increase Penalties for Hospital Price Transparency Noncompliance
The Centers for Medicare & Medicaid Services (CMS) issued a proposed rule in July to apply fines for noncompliance with a price transparency requirement on a per-day basis. The current rule fines hospitals $300 per day. CMS issued a request for comment on the proposed rule in August, and hospital industry groups have expressed their lack of support for the rule because facilities have been allocating resources towards addressing the COVID-19 pandemic. Learn more.
Insight: In previous challenges to the rule, hospital associations argued that transparency requirements would be burdensome, impede price negotiations with insurers, and confuse healthcare consumers. Despite all challenges being dismissed and the requirements taking effect, CMS has not yet issued penalties for noncompliance despite widespread noncompliance. A JAMA Internal Medicine study from June found that 83 out of 100 randomly sampled hospitals were noncompliant. This evidence has prompted members of Congress, including Rep. Frank Pallone (D-NJ) and Rep. Cathy McMorris (R-WA) to support increased penalties, voicing their support with a letter to HHS Secretary Becerra. However, hospital industry groups have asserted that more time should be given before a penalty increase given the financial strain from the pandemic. With an enhanced focus on transparency pricing across the healthcare industry from the Administration and Congress, enforcement and increased fines are more than likely, despite implementation and COVID-19-related compliance challenges.
Competition In Health Insurance Market Increasing, AMA Study Finds
The American Medical Association (AMA) recently released its annual report on health insurance competition. The report found that in 91% of the 384 metropolitan statistical areas studied, at least one insurer had a commercial market share of 30% or more, and in 46% of MSAs a single insurer's share was at least 50%. The AMA's report suggested that regulators should examine consolidation in the health insurance market. Learn more.
Insight: The report from AMA comes as the Biden Administration has demonstrated heightened concerns about competition in healthcare, including increased scrutiny of mergers and efforts to promote transparency. The Executive Order signed by Biden in July directs the Department of Justice and Federal Trade Commission (FTC) to review and revise their merger guidelines through the lens of preventing harm to patients, and the Administration will rely on reports from industry stakeholders such as AMA to guide their policymaking decisions. With a lengthy backlog of merger filings, the FTC is remaining steadfast with its meticulous review process. Notably, the FTC requested additional information in the pending Beaumont-Spectrum Health merger, which will likely be delayed given the backlog and information requests.
---
Policy in Development
Rep. Abigail Spanberger (D-VA) introduced a bill to establish a reserve of active pharmaceutical ingredients to maintain a domestic supply. This legislation would allow the U.S. to support its own supply chain for generic pharmaceutical manufacturing, rather than relying on foreign importation. The bill would afford more control over generic pharmaceuticals and potentially lower pharmaceutical prices. This is one of many proposals that have been introduced since the pandemic's onset to reduce reliance on ingredients from China. While the bill has bipartisan support, it remains to be seen whether other Members of Congress will cosponsor it, therefore giving it momentum to move forward. For example, earlier this week Senators Jacky Rosen (D-NV) and Bill Cassidy (R-LA) – both Members on the Senate HELP Committee – introduced the Strategic Planning for Emergency Medical Manufacturing Act. This bipartisan legislation would direct the HHS to develop and maintain a voluntary list of domestic manufacturers to produce medical supplies during severe shortages and create a streamlined process for U.S. manufacturers to work with the department to determine production capacity, technical assistance needs, and opportunities for federal contracts. Learn more.
Reps. Robin Kelly (D-IL) and Lisa Blunt Rochester (D-DE) led Black Caucus Members in urging CMS to restore payment rate for 340B hospitals. They wrote to CMS Administrator Chiquita Brooks-LaSure requesting that the agency not extend the Trump Administration's Medicare payment policy for safety-net hospitals participating in the 340B drug pricing program. The members request that CMS instead reinstate the previous policy, which reimbursed 340B hospitals at the same rate as non-340B hospitals. Of note, Rep. Kelly serves on the House Energy and Commerce Health Subcommittee and also as Chair of the Congressional Black Caucus Health Braintrust – a principal healthcare advisory taskforce. In recent weeks, Kelly has written to Senate Majority Leader Chuck Schumer (D-NY) in urging to close the Medicaid gap. As Congress debates healthcare policy including provisions for the budget reconciliation package, Rep. Kelly will be a leading voice and instrumental in shaping policy. Learn more.
Reps. G.K. Butterfield (D-NC) and Gus Bilirakis (R-FL) introduced the bipartisan Cancer Patient Equity Act. If passed, the legislation would expand coverage for cancer molecular analysis and testing, which would help to identify an individual's specific cancer type, inform treatment protocols and encourage education and awareness. Rep. Bilirakis serves on the House E&C Committee, Health Subcommittee. While it remains to be seen whether the legislation will become law, Rep. Butterfield has positioned himself as a leading voice in Congress on cancer-related proposals. Learn more.
Rep. David Scott (D-GA) introduced a bill that would amend the Health Care Quality Improvement Act of 1986. The bill would recognize the abuses physicians face in the peer review process and provides more protections to physicians. The legislation from Rep. Scott is unlikely to become law because it lacks additional support from Democratic Members, and it lacks bipartisan support. In addition, Rep. Scott does not serve on any committees that have jurisdiction over healthcare policy. Learn more.
---
ICYMI
---
Looking Ahead

October 7: The Senate Commerce Committee, Subcommittee on Communication, Media, and Broadband will hold hearings to examine the state of telehealth, focusing on removing barriers to access and improving patient outcomes. Learn more.
October 7-8: The Medicare Payment Advisory Commission will meet to discuss drug pricing, Medicare Advantage risk adjustment, alternative payment models, and the hospital wage index. Learn More.
Thanks to Katie Patton, Kelly Boyce, and The Vogel Group for their research support.