Characteristics of Medicare Beneficiaries Utilizing Audio-Only vs. Other Telehealth May Influence Future Coverage and Reimbursement Permanence
Utilization of telehealth before the COVID-19 pandemic was low for traditional fee-for-service (FFS) Medicare beneficiaries given stringent requirements (e.g., geography, originating site, service type, and modality). In response to the pandemic, HHS waived many of these restrictions for traditional Medicare beneficiaries for the duration of the declared public health emergency (PHE).
Pre-pandemic, Medicare's coverage of telehealth modalities was generally restricted to two-way audio/video, with smartphones or audio-only communications only permitted for a limited set of services in rural areas. While limited smartphone use and audio-only communications (e.g., behavioral health services) for telehealth are allowed during the COVID-19 PHE, whether these exemptions will become permanent is still unclear.
With telehealth accounting for a small segment of all Medicare visits, utilization of audio-only telehealth services has accounted for an even smaller portion of those Medicare telehealth encounters. The number of audio-only telehealth visits increased in response to the pandemic-era waivers, but not at the rate of other telehealth visits. Reinforcing the law of small numbers, 1.7M Medicare beneficiaries generated 3.8M audio-only telehealth visits in 2020. Of the 20M Medicare-attributed visits between January 2019 and June 2021, women accounted for the majority of audio-only (54.6%) and all other telehealth visits (61.1%). This trend is consistent with our previous findings that women constitute greatest share of telehealth users across all payers. Moreover, as expected, older Medicare (ages 85+) beneficiaries held a greater share of audio-only visits (16.8%) compared to all other visits (13.9%). This could be attributed to the increased access audio-only options allow, given barriers such as internet, smartphone, and broadband access.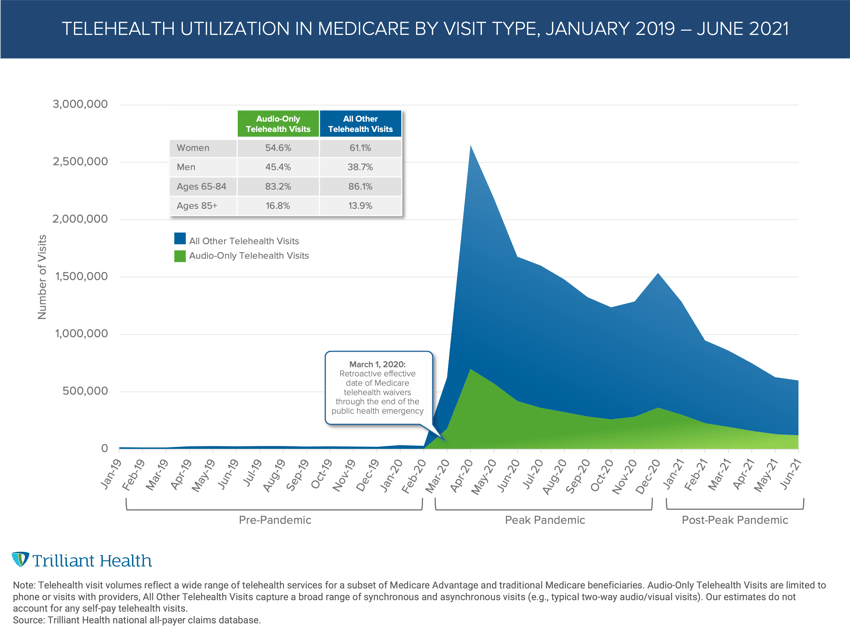 Proposals for the fiscal year (FY) 2022 Medicare Physician Fee Schedule include extending the expanded list of telehealth services through 2023 and allowing for audio-only telehealth for mental health services. By extending this "trial" period of telehealth expansion in Medicare, CMS and lawmakers will be able to compile substantial data to inform which, if any, COVID-19-era flexibilities will remain permanent beyond the end of the PHE.
Our research reinforces that mental health has been a key driver of telehealth utilization, both before and during the COVID-19 PHE. CMS' proposal to allow for audio-only telehealth for mental health services signals the agency's priority around this type of service. While several bills (e.g., CONNECT For Health Act, Permanency for Audio-Only Telehealth Act) propose making some or all COVID-19 telehealth flexibilities in Medicare permanent, substantive progress has yet to be made.
To guide the permanence discussion, future research will need to consider key questions such as:
Which beneficiaries (e.g., demographics, geography, psychographics) are most commonly using telehealth?

Which telehealth modalities (e.g., audio only) are most accessible to Medicare beneficiaries?

For which type of services is telehealth most utilized, and how will service mix change beyond the PHE?

What are the downstream care patterns for Medicare beneficiaries leveraging tele-services and how do they vary by modality?

What is the clinical value and longer-term impact on health outcomes derived from these services?
Long-term coverage decisions will benefit from insight not only into telehealth utilization data (where much of the focus has been thus far), but perhaps more importantly, the clinical utility of diverse telehealth capabilities and the characteristics and preferences of the users (e.g., men vs women beneficiaries) themselves.
---
Policy In Focus
The U.S. House of Representatives and Senate are both in session, entering one of the busiest legislative periods in years. Both parties need to address fiscal and legislative deadlines, including averting a government shutdown before the September 30 appropriation deadline. On Tuesday night, the House passed a continuing resolution to fund the government through early December and suspend the federal debt limit. The Senate is expected to block the measure. House Democrats continue to work on the $3.5T budget reconciliation package and the $1.2T bipartisan infrastructure bill, but these legislative initiatives may be deprioritized as Congress's focus shifts to debate on the debt ceiling. Democrat Whip Clyburn and the Chairman of the House Budget Committee have hinted Congress will not meet the September 27 deadline for the bipartisan infrastructure bill.
With health policy at the forefront, healthcare-focused companies have geared up on their representation in Washington. Over the last three weeks, more than two dozen healthcare companies have hired additional government affairs firms, including Abbott Labs, Alliance of Community Health Plans, Patient First, Huntsville Hospital Health System, and Allina Health – to name a few.
Last week, in the House Energy & Commerce Committee, three Democrats joined Republicans in voting against leadership-backed drug pricing provisions, namely government drug price negotiation, blocking its ability to advance. Despite the Ways & Means (W&M) Committee approving the prescription drug provision and sending it to the Budget Committee for inclusion, the opposition from three Democrats is notable as Speaker Nancy Pelosi (D-CA) cannot lose more than three Democrats during the floor vote.
The W&M Committee passed out of committee a provision that would expand Medicare to include hearing, vision, and dental benefits. The W&M's portion includes a provision that would reauthorize the health profession opportunity grant (HPOG) program to strengthen effective healthcare job training programs and ensure its availability nationwide. The Committee also advanced a provision that would permanently extend the increase in ACA subsidies for eligible individuals.
Federal Government Charges Defendants in Telehealth Fraud Scheme
Following a healthcare fraud investigation, the Department of Justice (DoJ) announced criminal charges against 138 defendants, including 42 doctors, nurses, and other licensed medical professionals in 31 federal districts across the U.S. for their alleged participation in various healthcare fraud schemes that resulted in approximately $1.4B in alleged losses. The charges target approximately $1.1B in fraud committed using telehealth, $29M in COVID-19 healthcare fraud, and $133M connected to substance abuse treatment facilities. Learn more.
Insight: Amid these charges being brought, the Office of the Inspector General of HHS has been auditing telehealth providers, though the results of those audits are not yet available. As typically happens, the expansion of existing or creation of new Federal healthcare programs inevitably leads to abuse of those programs by certain providers. As HHS waived certain restrictions related to telehealth and thereby expanded its availability, legislators have predictably been quick to champion making certain changes permanent.
It is likely that the DoJ's investigation of abuse of HHS's waivers will guide how telehealth policy will be implemented beyond the pandemic. Healthcare providers are advised to understand the most appropriate use cases for telehealth and then advocate for permanent changes that will improve the quality and cost of care provided to consumers. However, given Congress's current focus on budget reconciliation, infrastructure, and appropriations, near-term congressional action on telehealth policy is less likely.
Health Apps and Connected Devices Must Comply with Health Breach Notification Rule
The Federal Trade Commission (FTC) voted 3-2 to adopt a policy statement to clarify that health apps (e.g., glucose level tracking, heart health, fertility, sleep) must comply with the Health Breach Notification Rule (HBNR). The HBNR requires vendors of personal health records and related entities to notify consumers, the FTC, and, in some cases, the media when personal health data is disclosed or acquired without the consumers' authorization. Separately, the FTC also voted to withdraw from the 2020 Vertical Merger Guidelines, which had been issued jointly with, and remain with the DoJ. Learn more.
Insight: The FTC noted that companies that fail to comply with the rule could be subject to penalties of up to $43,792 per violation per day. FTC Commissioners Noah Phillips and Christine Wilson both voted no and each issued dissenting statements. The agency's recent focus on health data security reflects a broader prioritization on health consumer data, even though the rather diverse approaches to this issue have been raised previously. Relatedly, HHS released a NPRM in December 2020 that, if finalized, would ease certain HIPAA restrictions on the disclosure of personal health information. Given the NPRM was issued during the Trump Administration, subsequent rulemaking may not align completely during the Biden Administration. Regardless, the regulatory focus on health data sharing is working toward the goal of reducing burden for patients, providers, and payers, and ensuring patients can better access their health data, while remaining confident that it is securely handled between healthcare entities.
While the issue of data privacy is of more concern to consumers and the digital health market, the FTC's decision to withdraw the 2020 Vertical Merger Guidelines could have a material impact on the growth strategies of large technology companies, payers and Wall Street financiers.
HHS Issues Air Ambulance NPRM
On September 10, HHS, Treasury, Department of Labor, and the Office of Personnel Management released a notice of proposed rulemaking (NPRM) on "Reporting Requirements Regarding Air Ambulance Services, Agent and Broker Disclosures, and Provider Enforcement." The proposal puts forth requirements relating to data collection from air ambulance service providers, plans, and issuers. The NPRM also recommends that plans, issuers, and providers of air ambulance services submit data for each air ambulance claim and transport for the two years covered by the reporting requirements, as mandated in the No Surprises Act. Learn more.
Insight: The NPRM follows a July final rule from HHS and the Departments of Treasury and Labor that bans surprise bills for all patients and limits the patient out-of-pocket cost starting in 2022. Surprise billing is an issue that has received support from both Democrats and Republicans, notably with surprise billing provisions being included in the December 2020 appropriations package.
Policies to ensure consumer protection around pricing and transparency may continue to be topics with bipartisan support as the year moves toward a close. Comments on the NPRM must be received by October 18.
---
Policy in Development
Senators Collins (R-ME) and Casey (D-PA) introduced the Prescription Drug Pricing Dashboard Act, bipartisan legislation that would ensure information about the price of prescription drugs is readily available. The legislation would improve transparency and help lower costs by requiring consistently updated information to be posted on the Drug Spending Dashboards at CMS. Given opposition from key Democrats on current drug pricing initiatives being considered, it is likely this legislation would be similarly received. However, this bill's focus on data availability and cost transparency aligns with similar ongoing initiatives (e.g., hospital and payer transparency requirements). Learn more.
Senator Tammy Baldwin (D-WI) and Rep. Katherine Clark (D-MA) sent a letter to Congressional leadership requesting that the pending budget reconciliation package include investments in the palliative care and hospice workforce. The letter was well-received by several groups including the National Hospice and Palliative Care Organization and American Academy of Hospice and Palliative Medicine (AAHPM). Learn more.
Senators Sherrod Brown (D-OH) and Bill Cassidy (R-LA) introduced the bipartisan Promoting Readiness and Ensuring Proper Active Pharmaceutical Ingredient Reserves of Essential Medicines (PREPARE) Act of 2021, which would create an emergency supply of key ingredients used in essential generic medicines and incentivize domestic manufacturing of these ingredients to build a more resilient domestic supply chain. The provisions include establishing a new federal entity to identify, purchase, track, transport, manage, store, and convert an emergency supply of active pharmaceutical ingredients for essential generic medicines. As health systems experienced strain of the U.S.'s critical supplies during the pandemic, efforts to build a more reliable supply chain for necessary medicines is the first step in strengthening the national healthcare infrastructure. While assessing the timing remains difficult, the legislation has bipartisan support, and likely has the momentum required to move forward in the Senate. Learn More.
---
ICYMI
---
Supplemental Reading

The Duke-Margolis Center for Health Policy and Morgan Health released a framework for affordable employer-sponsored healthcare.

Learn more.

CMS Administrator Chiquita Brooks-LaSure outlined CMS' vision to advance health equity, expand coverage, and improve health outcomes.

Learn more.

An Urban Institute report finds that states will be able to slow down Medicaid disenrollment and assist beneficiaries in finding alternative coverage.

Learn more.
Thanks to Katie Patton, David Taylor, Chris Rash, and The Vogel Group for their research support.