Characterizing the Patient Populations of New Entrants | Part 1: CVS
Key Takeaways
Beginning with its acquisition of Aetna in 2018, CVS Health ("CVS") has made significant investments in the payer, primary care, virtual care, and home care markets.

Of the patients receiving healthcare services at CVS, almost 60% are female, while more than 41% were between the ages of 21 and 39.

While CVS MinuteClinics and HealthHUBs are available in 34 states, most of CVS's patients live in California, Ohio, Maryland, Rhode Island, Texas, and Florida.
______________________________________________________________________
In recent years, CVS has positioned itself as a full-service healthcare provider, particularly in the primary care space, rather than solely a retail pharmacy. As the breadth of services available at retailers expands beyond flu shots and strep tests to chronic disease management services, understanding who and where these patients are will be critical data inputs in evaluating CVS's impact. The more successful that CVS's primary care strategy is, the more likely it will disrupt traditional referral patterns between primary care and specialist physicians.
Background
CVS entered the primary care market through its acquisition of MinuteClinic in 2006 and expanded its pharmacy benefit manager platform through its acquisition of Omnicare in 2014. However, CVS's acquisition of Aetna in 2018 served as a turning point in its transition to a full-service healthcare provider.1,2,3 By acquiring the third largest U.S. payer, CVS is equipped to steer Aetna members to CVS's expanding virtual and in-person healthcare services.
CVS recently initiated the phased closure of over 900 stores to streamline its healthcare strategy, announced its planned acquisition of home health provider Signify Health, and, according to published reports, is focused on expanding its primary care business through a major investment or acquisition, with Cano Health reportedly being its current target.4,5,6,7 In only four years, CVS has rapidly implemented the strategy that it touted upon its acquisition of Aetna to "transform the consumer health experience…through a new innovative care model that is local, easier to use, less expensive and puts consumers at the center of their care."8 With many patients continuing to delay (and in many cases forego) care and heightened competition from other retail providers, the success of CVS's healthcare expansion remains to be seen.9,10,11,12
Analytic Approach
To better understand who seeks healthcare services at CVS and why, we leveraged our national all-payer claims database to identify medical services accessed at CVS locations. Of the identified patient panel, we characterized age, gender, and geographic breakdowns, as well as the most common reasons for medical visits.
Findings
Females represent 59% of the patients receiving healthcare services at CVS, and 41% of CVS patients are between the ages of 21 and 39 (Figure 1). The age cohort of CVS's patients is typical, as younger Americans are more likely to lack an established primary care relationship.13,14 Despite CVS's expansion into more chronic care management services, the majority of services delivered at CVS locations are low-acuity primary care services (e.g., general encounters with communicable diseases).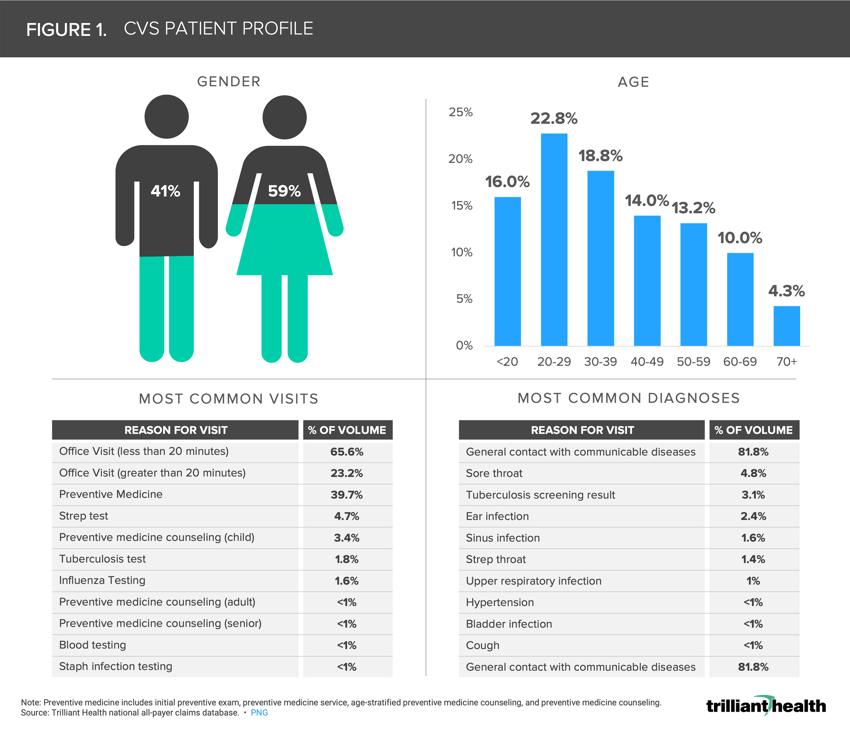 While CVS operates MinuteClinics and HealthHUBs in 34 states, more than 60% of its patients live in six states: California (14%), Ohio (14%), Maryland (9%), Rhode Island (7%), Texas (7%), and Florida (6%) (Figure 2). As more of the 900-store closure takes effect, patients will likely become more geographically concentrated.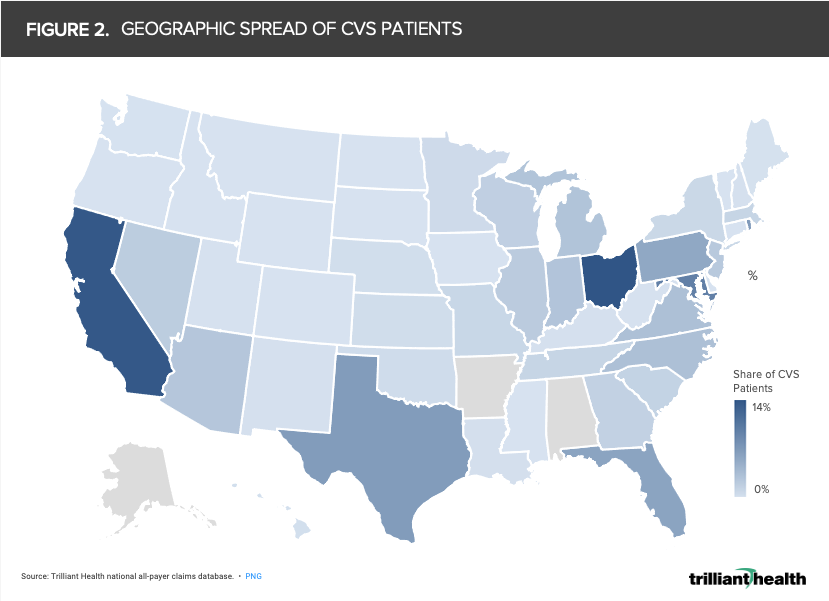 While CVS's current care delivery strategy is attracting patients who are more likely to be foregoing primary care to receive urgent/acute care, its success acquiring primary care patients through its planned expansion will hinge upon the ability to integrate patients into its existing virtual and in-person delivery platform. Given almost all retail competitors (e.g., Walgreens, Walmart) also continue to grow their healthcare footprint, further research will explore the typical patients already utilizing those providers for urgent and preventive care.
In a post-pandemic health economy defined by a greater disease burden, growing out-of-pocket costs, and a population that continues to delay important preventive care (e.g., cancer screenings) despite having access to more "consumer friendly" care settings – home, retail and virtual – whether CVS or other established retailers will be able to meaningfully improve the health outcomes of Americans is an open question. Can CVS attract higher-risk (and unengaged) individuals in necessary primary care beyond COVID-19 related services, facilitate specialty care through strong referral networks, and bi-directionally coordinate the needs of patients across both primary and specialty care services? Does its recent M&A activity suggest that an "old school" approach – acquiring physician practices – is essential to execute its strategy? Future research will analyze the longitudinal patient journeys of individuals seeking care via CVS and other retail providers.
Thanks to Megan Davis, Austin Miller, Katie Patton, and Chris Rash for their research support.