[EXCLUSIVE] SimilarityIndex™ | Markets
In an effort to improve decision making, we are pleased to introduce the SimilarityIndex™: benchmarks generated from the health economy's first machine-learning-based SimilarityEngine™.

As a society, we have been primed to determine what is "best" using third-party rankings and abstract measures. What are the top five restaurants in New York? What are the best colleges in the country? Healthcare is no exception. What are the best hospitals in America? Who are the best orthopedic surgeons in Tampa?
These lists are used to identify which organizations or individuals are the "top," and therefore become the benchmark for everyone else. U.S. News and World Report ranks Mayo Clinic as the best U.S. health system, but IBM Watson Health includes Allina Health, Avera Health, and Sentara Healthcare among the top performing health systems. According to Forbes, Aetna, Blue Cross BlueShield, and Cigna are the best health insurance companies even as UPMC, Capital District Physicians, and Kaiser Foundation Health Plan of the Mid-Atlantic States are rated highest on NCQA's Health Plan Report Card. Subsequently, the entire health economy pursues aspirational and arbitrary benchmarks to guide critical decisions from M&A to value-based network development.
While using mathematical principles to create evidence-based benchmarks has always been possible, healthcare has not adjusted its decision-making process to reflect recent technological developments. Other industries already routinely apply this mathematical rigor in everyday life (e.g., Netflix and Spotify recommending similar content based on features of previous activity).
In the increasingly complex health economy, the need for evidence-based strategies among every stakeholder–from policymakers and health plans to providers and life sciences–has never been more critical. Since healthcare is local, the first application of the SimilarityEngine™ is focused on MARKETS. The SimilarityEngine™ also allows us to compare and characterize facilities, physicians, and patients, which we will explore in future research.
To create the SimilarityIndex™ | Markets, we selected the following categories based upon the selected features.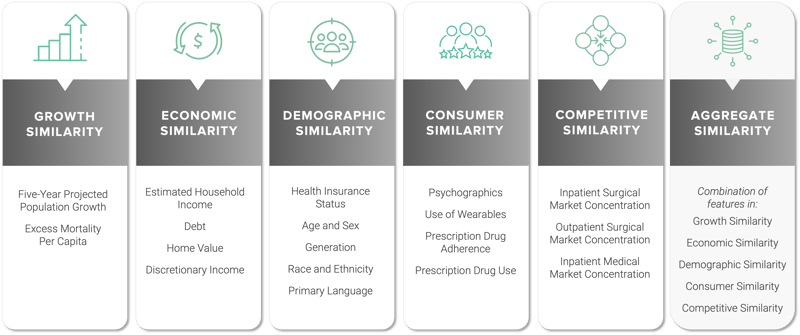 Improving U.S. healthcare outcomes and affordability requires an exponentially better approach to decision making. Now is the time to modernize benchmarking, the foundation for developing evidence-based strategies.
I hope this report will fundamentally change how you think about the market(s) you serve, whether it be from the lens of its patient population, competitive dynamics, or something else; and that, going forward, you will consider leveraging the web-based SimilarityIndex™ tool to identify the correct benchmarks.