Network Performance Determines the Winners and Losers in Healthcare's Negative-Sum Game
The volumes and financial results of every hospital, surgery center, imaging center and physical therapy clinic depend on the decisions made by physicians and patients. Understanding referral patterns and consumer preferences informs growth strategies, optimizes revenue and accelerates market expansion in the ever-changing provider landscape.

Research Subscriptions
Our premium subscriptions offer in-depth analysis and interpretation of evolving and emerging trends through the lens of demand, supply and yield.
Access a subscriber-only platform with exclusive data-driven insights, policy briefings, executive commentaries and strategic resources.

Learn More >

Develop targeted go-to-market strategies with a comprehensive overview of demand, supply and yield within a specific clinical area at the national, market and organizational level.
Primary Care / OB/GYN / Behavioral Health / Digital Health / Orthopedics / Cardiology / Oncology / Gastrointestinal

Learn More >
Evaluate how specific hospitals and markets are performing relative to national, peer and competitor benchmarks; and identify areas for improvement and potential growth opportunities with in-depth views of the key measures underlying performance scores.
Provider | Market
Analytics Solutions
Our analytics solutions identify market-specific opportunities to improve your organization's network performance and compete more effectively in healthcare's negative-sum game.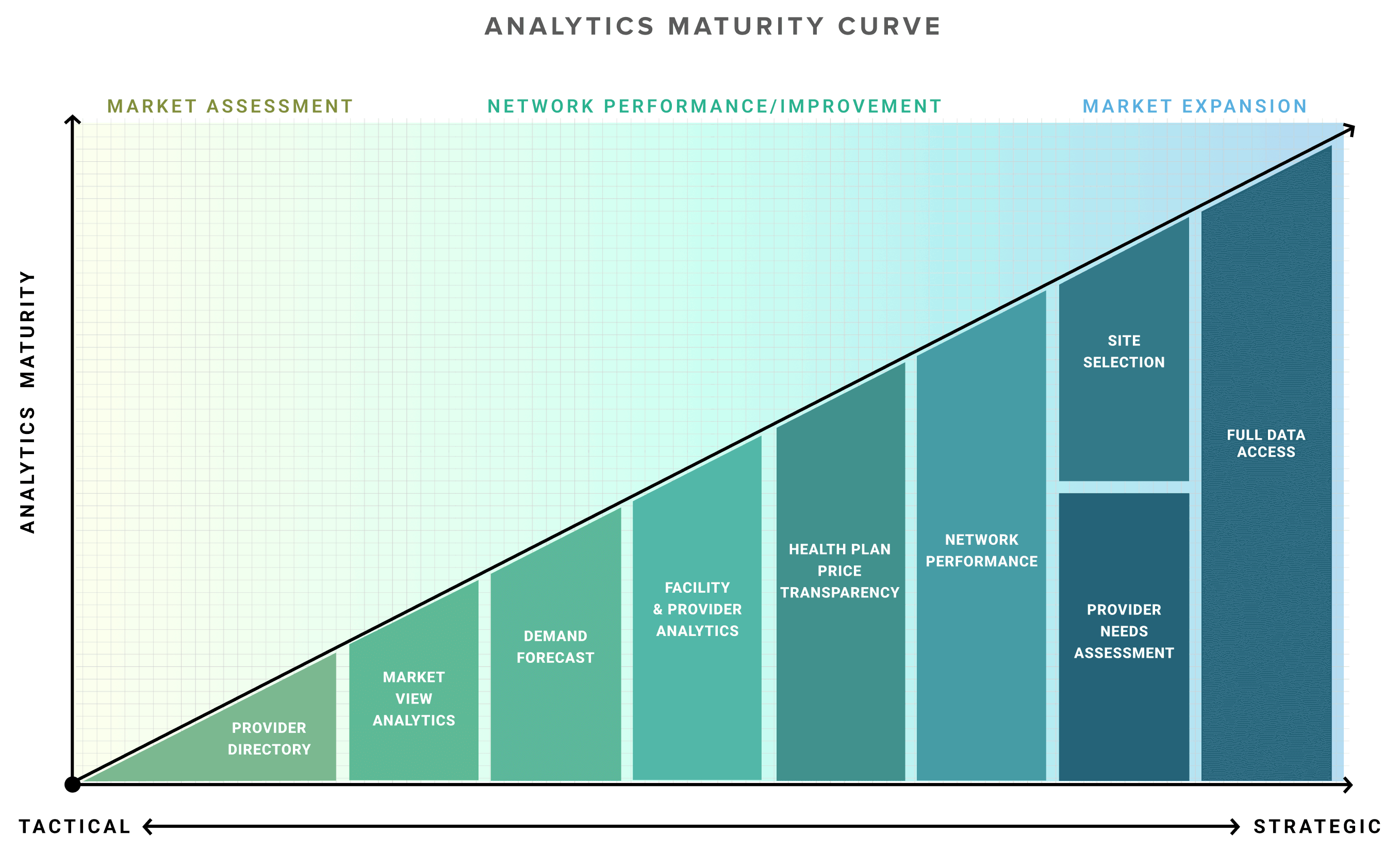 Delivers real-time, claims-based intelligence about physician behavior. Provider Directory allows you to understand who is practicing, the locations at which they practice, which types of patients they see, how often they see them and where those patients go next.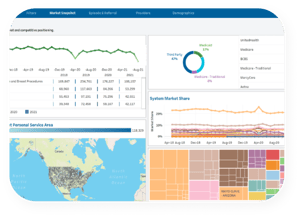 Tracks patient care trends to reveal market share for all organizations in a market. Market View Analytics allows you to analyze market share, setting of care and patient demographics by organization, service line and payer mix.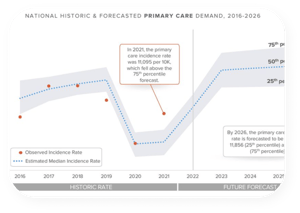 Forecasts where volumes are expected to grow or decline by market, service line, age, gender and other variables. Demand Forecast allows you to reduce risk and maximize return on invested capital by understanding the most compelling growth opportunities.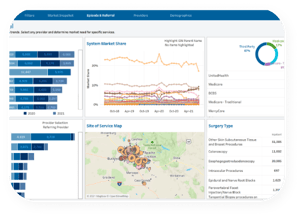 Tracks patient care trends to reveal market share for all facilities and providers in a market. Facility & Provider Analytics allows you to track volumes and referral patterns by facility, provider group, service line and payer mix.
Provides contracted reimbursement rates across competitors. Health Plan Price Transparency provides a comprehensive understanding of the range of negotiated rates for any healthcare service in a market, eliminating the long-standing information asymmetry in managed care contracting.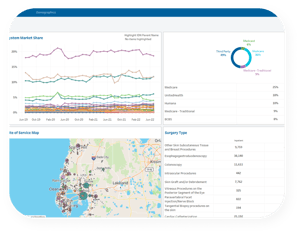 Tracks patient journeys across the care continuum to understand your network performance in comparison to your competitors. Network Performance allows you to identify where, when and why patients are leaving your network and then develop strategies to enhance care coordination to improve network performance.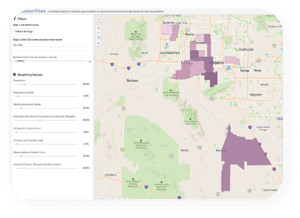 Generates recommendations for market and site selection based on utilization, demographics and competition. Site Selection allows you to match consumer demand with the optimal locations for ambulatory sites of care across the nation or within local markets.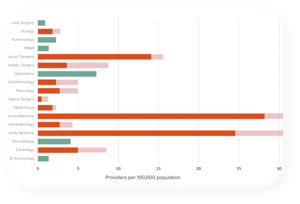 Provides an understanding of the supply of physicians by specialty and demand for specific medical services in your market. Provider Needs Assessment enables you to create evidence-based network development strategies to meet the needs of your customers.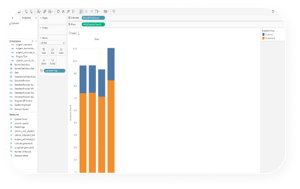 Provides advanced analytics teams with comprehensive data access. Full Data Access allows you to create custom analyses to answer your organization's most complex strategic questions.
Data-driven Insights on the Health Economy
The health economy creates more data than any other part of the U.S. economy. Trilliant Health's research and reports examine the organization, financing and delivery of healthcare from the lens of demand, supply and yield.
The Compass
A weekly research publication led by Chief Research Officer, Sanjula Jain, Ph.D., The Compass explores data-driven trends as a guide to the increasingly complex health economy.

2023 Trends Shaping the Health Economy
The report is a fact-based national analysis of 10 data-driven trends that will define the landscape, and subsequent challenges, for all players in the health economy, revealing the importance of delivering value for money.

Trends Shaping the Health Economy | Behavioral Health
Our Trends Shaping the Health Economy: Behavioral Health report highlights eight macro trends to explore how the pandemic altered behavioral health diagnosis and treatment in America through the lens of supply, demand and yield.