Trilliant Health Announces Release of Health Plan Price Transparency Analytics, Enabling Unique Insights Into Total Cost of Care and Inaugurating an Era of Value-Based Competition
The health economy's first analytics product to connect any facility or physician with the negotiated reimbursement rate for any payer for services rendered at any location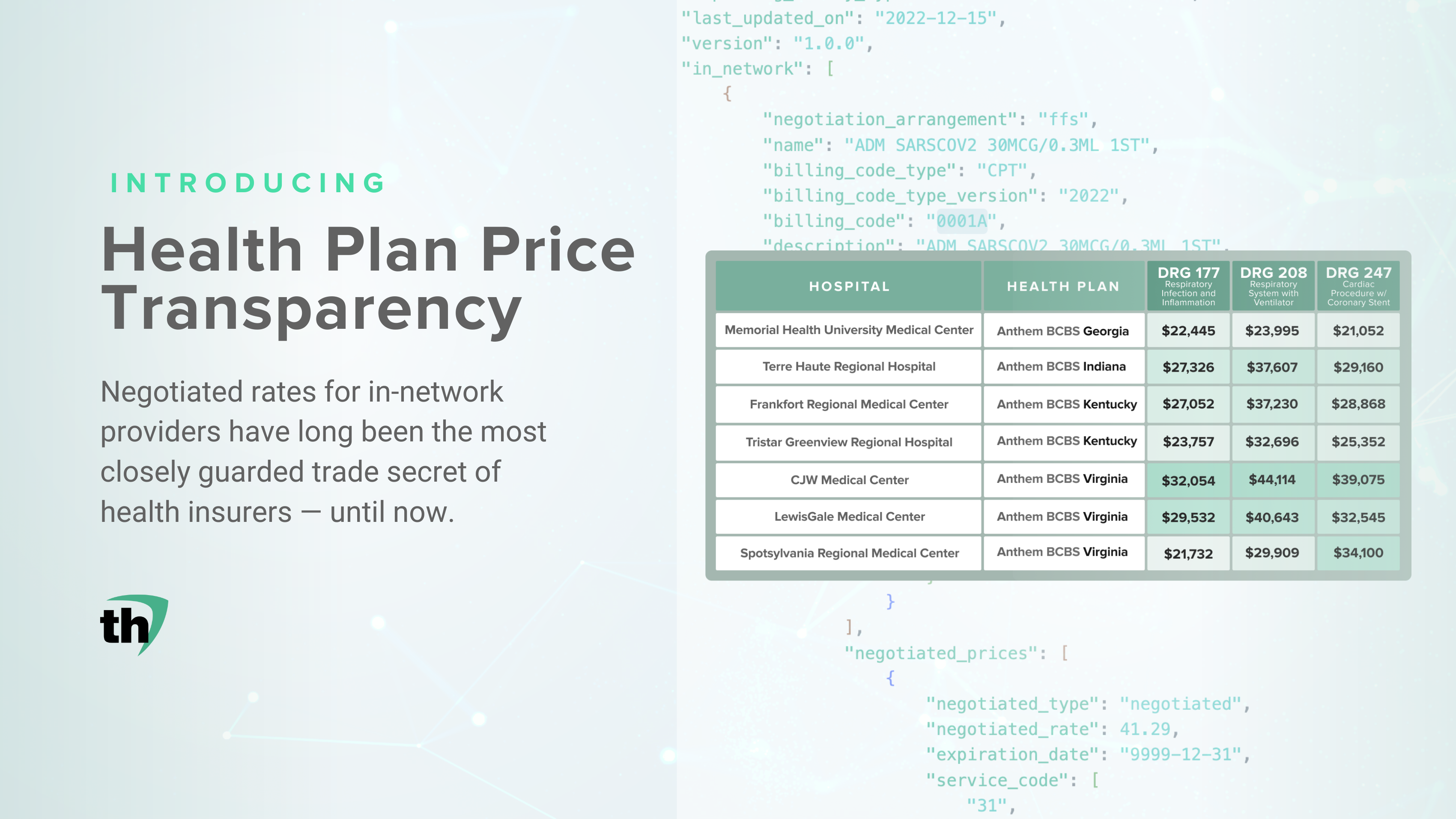 BRENTWOOD, Tenn. – March 27, 2023 – Trilliant Health, the leading predictive analytics and market research firm in the healthcare industry, today announced the release of its health plan price transparency analytics product. By combining its proprietary provider directory and market analytics with data from health plan price transparency files, Trilliant Health has created the only analytics solution that reveals the negotiated reimbursement rate between any health plan and any provider for any service rendered at any location.

"For decades, both providers and payers have lacked the data to negotiate reimbursement rates based on a comparative analysis of volumes and total cost of care delivered within a specific market. Likewise, employers have lacked the data to assess the recommendations made by health insurance brokers," said Trilliant Health CEO, Hal Andrews. "Until today, industry talk about understanding total cost of care was just that – talk – which is the reason that true 'value-based care' arrangements have languished. With Trilliant Health's unique combination of a directory of more than 2.7M providers, longitudinal patient journeys for more than 300M Americans and hundreds of millions of data points from health plan price transparency files, understanding total cost of care by payer for any patient cohort is now possible. More importantly, health plan price transparency data will enable value-based competition, revealing the best value for any service in any market under fee-for-service arrangements."

Negotiated rates for in-network providers have long been the most closely guarded trade secret of health insurers, protected by confidentiality clauses and antitrust regulations. Because of this information asymmetry, health systems, ambulatory care providers, physicians, medical device companies and life science organizations have lacked the information to negotiate effectively based on the volume and quality of care delivered. Ultimately, employers and American consumers have borne the cost of soaring U.S. healthcare prices without having any understanding of what was happening or how to change it. With the advent of health plan price transparency, the only remaining "black box" price schemes are those of pharmacy benefit managers.

"Everything that you have heard about the complexity of health plan price transparency is true," continued Andrews. "Although CMS outlined a standard data schema, health plans have implemented the schema in a variety of ways. Some health plans posted hundreds of files with millions of data points in each, while others posted millions of files with thousands of data points. The files also contain millions of 'phantom rates.' In some cases, the phantom rates result from a health plan posting all negotiated rates for all payment codes for every individual provider, such as posting rates for cardiovascular and home health procedures for a physical therapist. In other cases, health plans have posted rates for physicians at their previous place of employment. Without understanding the identity of and services rendered by every provider, understanding the relevant negotiated rates at the individual provider level is impossible. As a result, connecting a negotiated rate to a specific provider is essential to leveraging the health plan price transparency files."


About Trilliant Health
Trilliant Health combines healthcare industry expertise, market research, and predictive analytics to form Evidence-Based Strategy for Healthcare™. Trilliant Health's proprietary analytics platform produces a comprehensive understanding of local market dynamics, providing exponentially better data insights to maximize returns from growth strategies.