Trilliant Health Announces Publicly-Available EOM Performance Estimator
First public tool to help oncology practices make evidence-based decisions about participation in the Enhancing Oncology Model (EOM) program.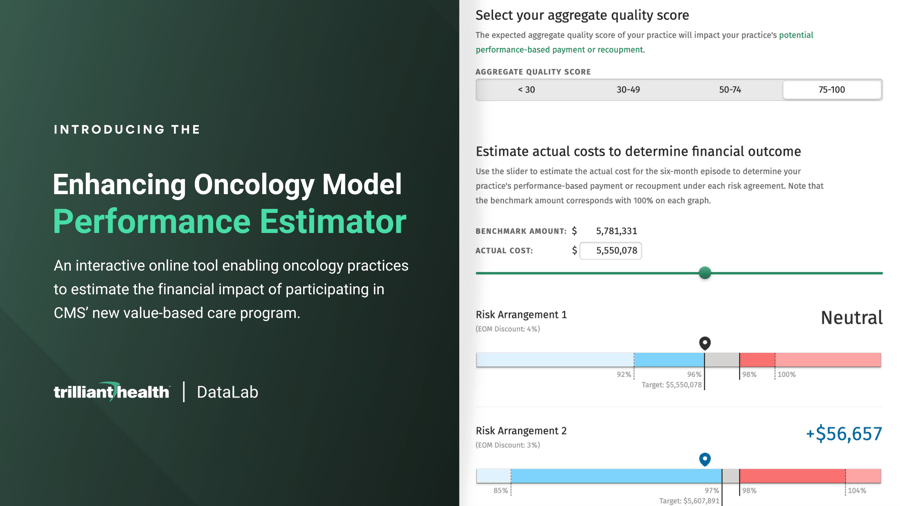 BRENTWOOD, Tenn. – February 8, 2023 – Trilliant Health, the leading predictive analytics company for the health economy, today announced the release of its Enhancing Oncology Model (EOM) Performance Estimator. This interactive, online tool enables practices to analyze their performance as part of EOM, with predicted benchmark costs and estimated financial outcomes of each risk arrangement for a hypothetical six-month performance period.
In June 2022, the Centers for Medicare & Medicaid Services (CMS) announced EOM with the goal of transforming care coordination in oncology through improved quality and reduced spending under Medicare fee-for-service. In the EOM program, practices will be responsible for financial and quality outcomes for episodes of care among patients with common cancers receiving chemotherapy treatment. Prospective participants must confirm participation and choose between two risk-sharing arrangements before the program begins in July 2023.
"While CMS has provided detailed information on the program, as well as deidentified baseline data, it is difficult for practices to assess their potential financial performance due to the absence of practice-specific data, the size of the baseline data files, and the complexity of cost calculations," said Hal Andrews, CEO of Trilliant Health. "We created the EOM Performance Estimator to offer potential participants a key data point to inform their decision."
"The process for determining a practice's success in the program is complex, requiring advanced data analysis beyond the capabilities of many practices," said Cindy Revol, SVP Oncology Solutions at Trilliant Health. "The EOM Performance Estimator is a simple and intuitive tool that allows practices to quickly visualize the potential impact of each risk arrangement under different scenarios."
Beyond this publicly available tool, Trilliant Health offers strategic support services for EOM to dive deeper into practice-specific data, leveraging our robust claims database and expertise to maximize a provider's success under the program.
About Trilliant Health
Trilliant Health combines healthcare industry expertise, market research, and predictive analytics to develop Evidence-Based Strategy for Healthcare™. Trilliant Health's proprietary analytics platform produces a comprehensive understanding of local market dynamics, providing exponentially better data insights to maximize returns from growth strategies. For more information, please visit trillianthealth.com.

Journalists can reach the Trilliant Health media team at: media@trillianthealth.com