The Return to "Normal" Primary Care Utilization Among Females Ages 20-49 Varies by Market
The U.S. population writ large is consuming less primary care than before the pandemic, even though primary care volumes for females ages 20-49 are up compared to pre-pandemic utilization. As we have discussed previously, the increase in volume for females ages 20-49 is primarily attributable to encounters for communicable diseases, likely related to COVID-19, and screenings, indicating a return to preventive care.
The national increase in primary care utilization by females ages 20-49 varies significantly by market, proving once again that healthcare is local. Several factors influence primary care utilization at the market level, including provider supply, disease burden, and population migration.
Given preventive primary care services are so important to health and well-being, we analyzed primary care utilization at the market level to understand the extent to which primary care utilization has returned to the pre-pandemic peak in October 2019.
To eliminate the "noise" of testing for COVID-19, we analyzed new (CPT Codes 99201-99205) and established (CPT Codes 99211-99215) office visits for females ages 20-49 in all CBSAs with populations of 500,000 or greater from October 2019 to October 2021. We then calculated the percentage difference between October 2019 and October 2021 volumes to understand the degree to which markets have returned to "normal" utilization of primary care (Figure 1). Of the 20 CBSAs with the highest primary care volumes for this cohort, the percent change of visits in this timeframe ranges from -47.2% (Riverside-San Bernadino-Ontario, CA) to +19.9% (Dallas-Fort Worth-Arlington, TX).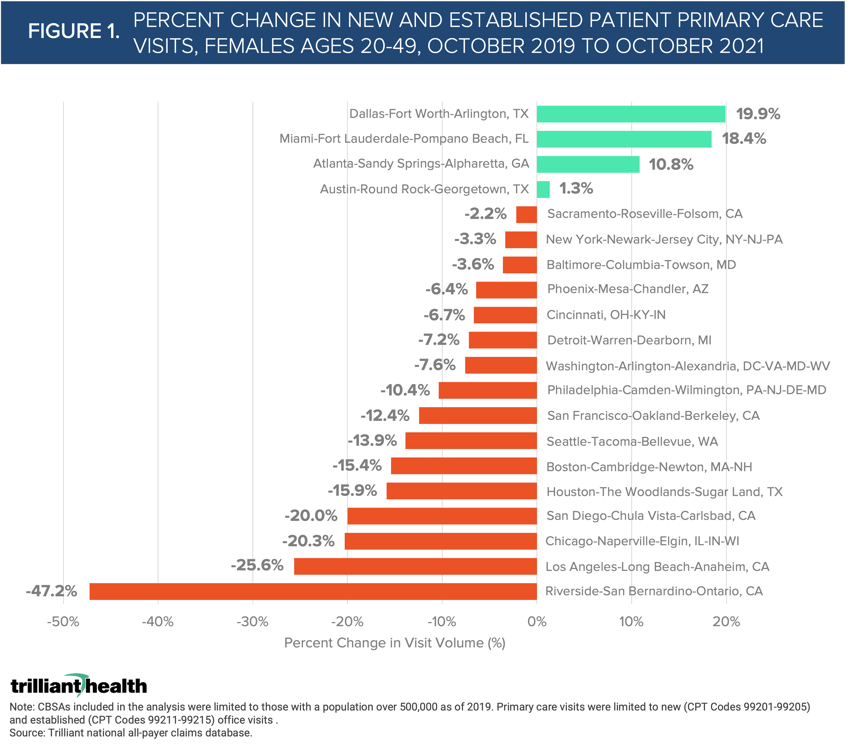 As Figure 1 demonstrates, not all females ages 20-49 are seeing a return to "true" primary care, despite the nationally observed trend. The pandemic has also seen established retailers (e.g., CVS, Walmart) and emerging tech-enabled providers (e.g., Amazon, One Medical) expand into primary care, creating disruption in long-established referral relationships between primary care and specialist providers. This phenomenon will be further magnified within this cohort as females are less loyal to provider networks than males. As a result, traditional healthcare providers must address new challenges for care coordination for patients who are either reluctant to seek care or seeking care from unaffiliated providers.
The impact of delays in preventative care for females ages 20-49 are widely known. Providers in markets in which primary care utilization has not returned to "normal" should assess the specific demographic and psychographic characteristics of those females who have not yet returned to develop strategies to re-engage with these patients.
Thanks to Kelly Boyce and Katie Patton for their research support.