Sneak Peek: 2021 Trends Defining the Post-Pandemic Health Economy
Data without context is just noise, but data as a story is insight that enables action. It seems every few weeks there is a new headline trend - whether it be MedPAC's latest payment rate update, the AAMC's physician shortage estimates, Rock Health's report on digital health investments, or McKinsey's survey of consumer preferences for virtual care, to name a few. While I always enjoy digging into the richness of those data, the challenge is discerning what each discrete finding means in the context of where trends are headed at the health economy level.
As an admirer of Mary Meeker's annual Internet Trends Report, I have long thought our industry has lacked a comprehensive, data-driven equivalent for healthcare trends. Inevitably on the heels of a global pandemic, many are looking to ascertain what impact COVID-19 will have over the next 5-10 years to develop go-forward strategies accordingly. What better time than the present to put a longstanding idea into action...
With the tremendous support of my colleagues, we have conducted a national analysis to identify several data stories influencing the $4T health economy equation. The inaugural Trends Shaping the Post-Pandemic Health Economy report will debut with a special edition of The Compass scheduled to hit your inbox on Wednesday, June 16th. Until then, here is a sneak peek at a few key insights from the report:
1. Demand of Healthcare Services is Flat to Declining Despite Increasing Burden of Disease
If there was a need to validate Churchill's "the farther back you can look, the farther forward you are likely to see," look no further than patient utilization trends. In hindsight, data reveal that aggregate inpatient and outpatient demand have been relatively flat for years (Figure 1); and hospital admissions peaked in 2008.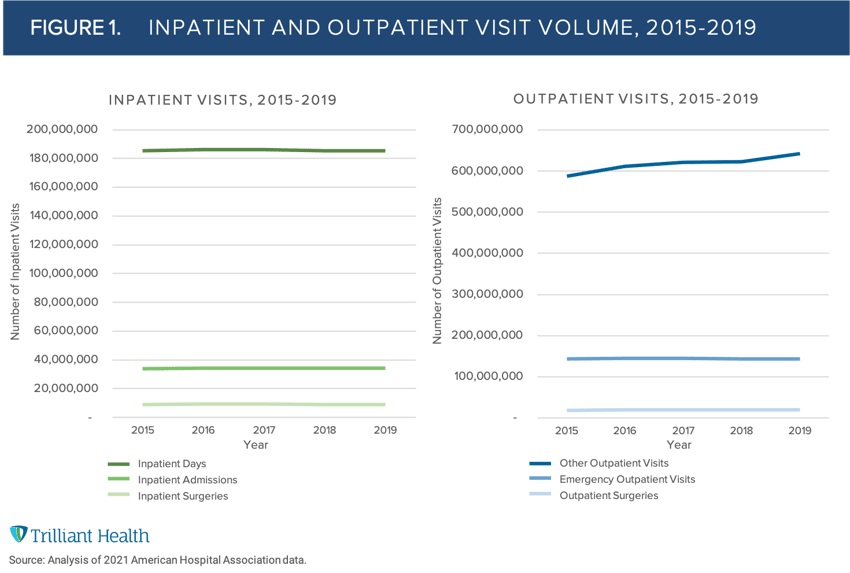 Applying machine learning models to national all-payer claims data, we forecasted future surgical demand accounting for the migration and mortality impacts of COVID-19. We find that the rate of growth nationally is projected to be low, and even decline in some markets across 2021-2025 (Figure 2). Small and mid-size CBSAs have a higher propensity for flat and declining demand, with growth primarily varying as function of underlying population shifts and care trends.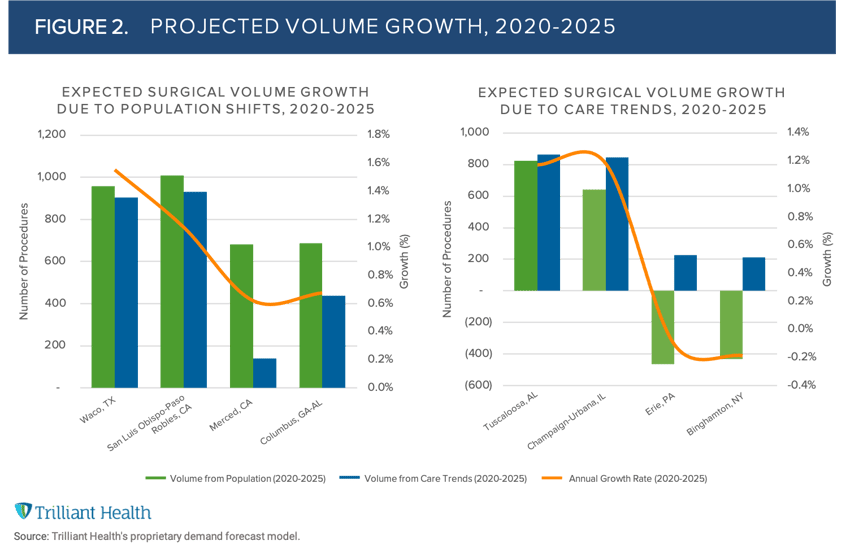 2. Even the Largest Health Systems Cannot Compete with the Level of "Stickiness" of New Entrants and Retail Providers
Existing relationships with consumers at scale create greater competitive pressures on traditional health system providers. Despite the headlines about the impact of health system consolidation, no single health system has ongoing consumer relationships with even 2% of the U.S. population (Figure 3). In contrast, Amazon has relationships with almost half of the U.S. population, providing a unique opportunity to expand their product offerings to an existing customer base.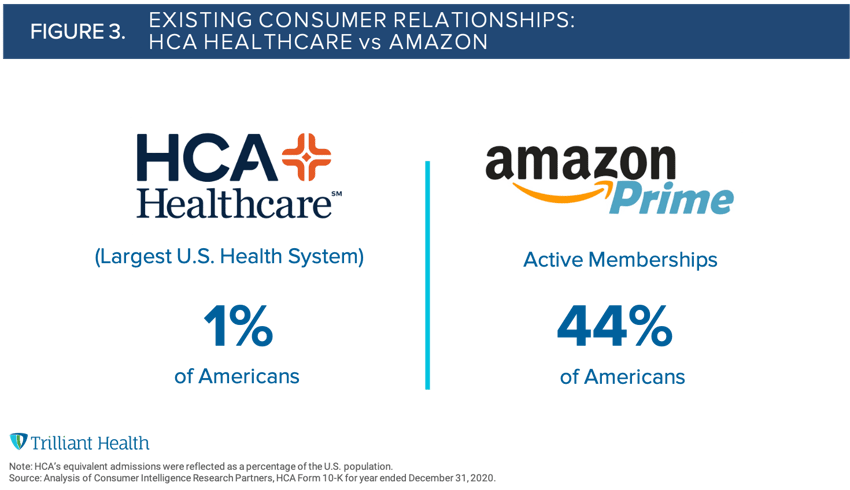 Even new entrants like Humana and Walmart (Figure 4) that don't have the same level of "stickiness" with Americans as Amazon still pose competitive threats to hospitals and health systems. New market entrants have extensive experience in consumer marketing and engagement, whether Medicare Advantage or retail.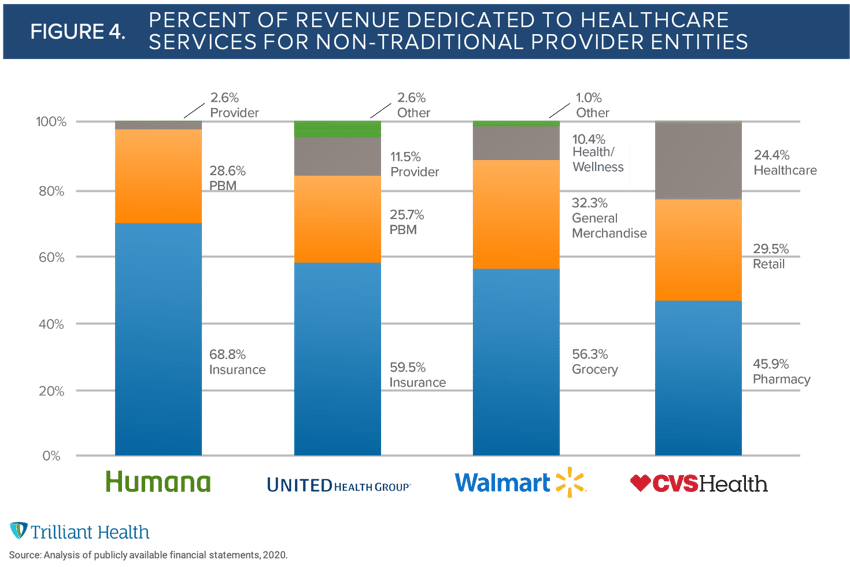 3. Price is Critical Lever for Competition in a Low Demand, High Supply Economy

With more suppliers in the market chasing after consumer share of care, the competition is intensifying. While the competitive landscape affects all players in the health economy, the stakes are greater for health systems already playing a "negative sum game". There are always a few winners in a negative sum game, as HCA consistently demonstrates by winning market share of inpatient admissions in nearly all of their key markets (Figure 5).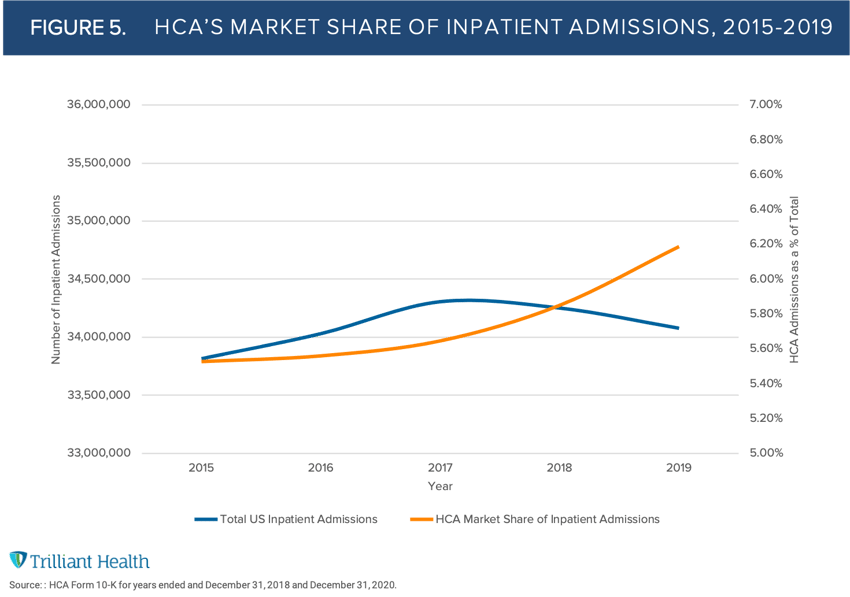 Ultimately, winners in the post-pandemic health economy will be those that compete on price. Prices and reimbursement rates vary widely by market and payer type, except for Walmart, which has stayed true to its roots as a purveyor of goods and service with "low prices" (Figure 6). Even though health systems have felt price pressures for years, the competition has never been greater as retail entrants like Walmart set the gold standard for engaging patients as consumers.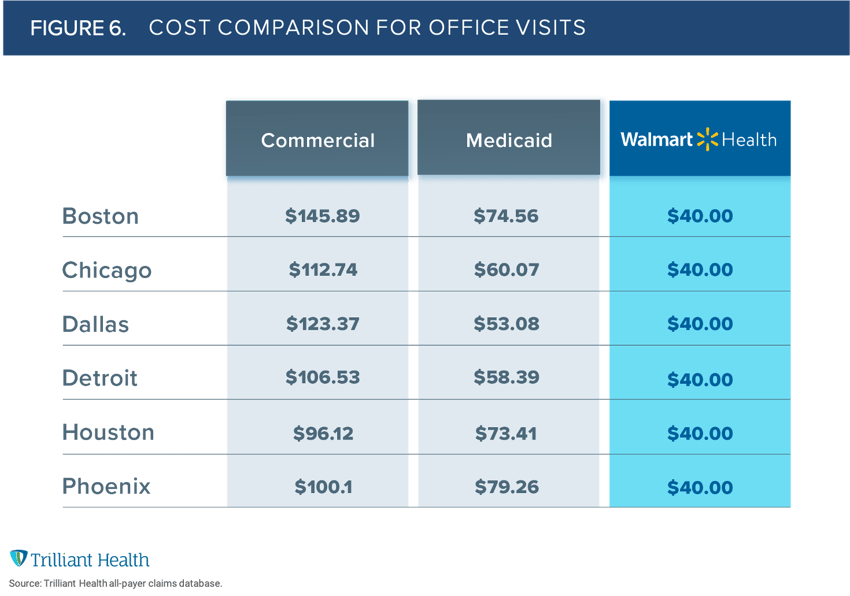 These are just six of the 120+ more data stories to come…