Retailers' Relatively Lower Prices and Brand Loyalty Will Disrupt the Urgent Care Market
In the post-pandemic health economy, population growth in the Sunbelt will outpace other markets, with five of the fifteen fastest growing CBSAs in Florida and Texas. For example, the Austin-Round Rock-San Marcos, TX and Orlando-Kissimmee-Sanford, FL CBSAs are projected to see compound annual population growth of more than triple (2.2%) and double (1.7%) that of the average U.S. growth rate (0.7%) between 2021 and 2029. States with growing populations will experience significant changes in the behavioral profiles and preferences of its residents, subsequently influencing consumer demand for healthcare services.
Not surprisingly, Florida and Texas are also appealing markets for retailers to expand healthcare offerings (Figure 1). We have previously discussed the mounting competitive pressures among traditional healthcare providers in the face of the growing footprint of retail brands such as Amazon. Whereas Amazon's strategy via Amazon Care is focused on expanding its "physical" presence in concert with virtual services, competitors like Walmart are adding virtual services on top of a pre-existing (and expanding) brick-and-mortar network.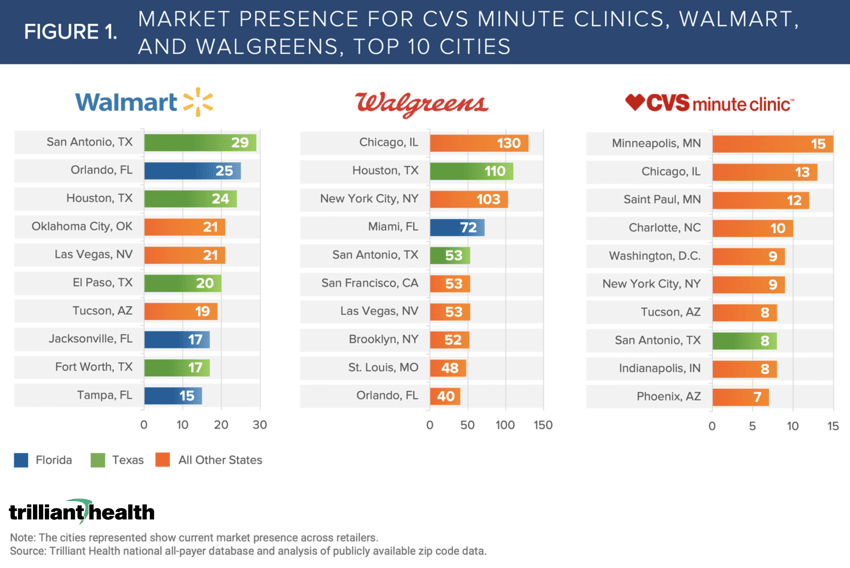 Eighty-seven percent of Walmart retail locations already offer health services such as pharmacy and optometry, which provides a scalable platform to add additional primary care services. This week's announcement that Walmart has partnered with Epic would suggest that Walmart is fully committed to expanding its primary care footprint.
The most significant threat from Walmart, CVS and Walgreens is increasing consumer options for primary care services. These retailers offer a significantly lower (and transparent) price than traditional providers (Figure 2). Americans are increasingly concerned with growing healthcare costs, and the most price-competitive providers will appeal to price-conscious consumers. Perhaps more troubling for health systems is the way in which an increasing number of providers delivering primary care services will disrupt traditional primary care-specialist referral relationships.
The emergence of alternate sites of care for primary care, such as urgent care centers and retail clinics, is particularly appealing to consumers who are "Willful Endurers", which is the dominant psychographic profile in both Florida and Texas. Notably, the proportion of Willful Endurers in Florida is three percentage points above the national average (Figure 2). Research shows that Willful Endurers are twice as likely to utilize urgent care than all other psychographic profiles combined, comprising of 67% of individuals who visit urgent care every 1-3 months.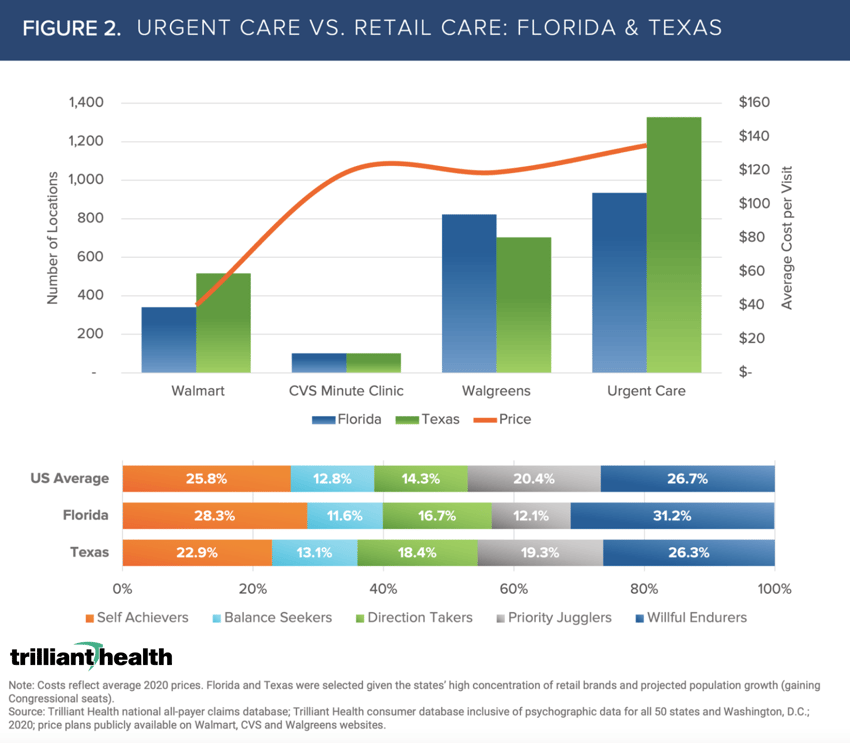 While many health systems have sensibly invested in urgent care centers in recent years, they will increasingly be forced to compete on price with retailers with significantly more scale. Additionally, the high proportion of Willful Endurers in Florida and Texas will pose challenges for primary care providers and health systems in generating referrals for specialized care. Will new entrants struggle to master the complexities of healthcare services? Probably so. Do they have the resources to master those complexities? Undoubtedly so.
Despite these inevitable challenges, with Walmart alone already engaging 220 million Americans a week, their consumer "stickiness" paired with competitive prices in markets with a high demand for urgent care will require traditional providers, particularly those in the Sunbelt, to "up their game."

Thanks to Katie Patton, Kelly Boyce, and Jason Nardella for their research support.