Maximizing Record Investments in Women's Health Requires an Understanding of Regional Demand
Women typically utilize more healthcare services than men according to the U.S. Department of Labor and make approximately 80% of the healthcare decisions for their families. Yet, women are slightly less loyal to provider networks than men, a trend that will continue as women have even more options.
In recent years, there has been significant investment growth in dedicated women's health provider brands (e.g., Tia, Maven Clinic), with the goal of redesigning women's health through establishing coordinated provider networks, enhancing available fertility services, and creating virtual care platforms. Notably, private equity activity in this space was characteristically low until 2017, when investments in women's health – inclusive of medical practices, virtual care, provider networks, biotechnology companies, etc. – dramatically increased. Research has shown that funding for digital health startups with a focus on women's health totaled $1.3B through August 31, 2021, almost twice that of 2020 funding levels. Beyond venture capital and private equity, companies across the health economy have taken action to address women's health. For example, In June 2021, Merck finalized its spinoff of Organon, focusing solely on women's health with a portfolio of approximately 60 treatments and products.
Is the heightened investor focus on women's health services merited by future demand? To find out, we explored projected annual growth of demand for OB/GYN medical and surgical services between 2021 and 2029. Additionally, we analyzed the top contributing diagnoses and surgical procedures relating to medical and surgical OB/GYN episodes spanning 2017 to 2021.
While both medical and surgical OB/GYN demand is projected to increase between 2021 and 2029, demand for medical services (e.g., prenatal care, infertility) is projected to be uneven, with demand projected to decrease between 2024 and 2025 and again between 2026 and 2027 (Figure 1). Surgical services (e.g., C-sections, mastectomies) will alternatively see steady increased annual growth during this timeframe. At the national level, average annual growth for both surgical and medical OB/GYN demand is projected to be 0.4%. However, at the regional level, there is wide variation, with the Midwest seeing a decline in both OB/GYN medical demand (-0.8%) and surgical demand (-0.7%), in contrast with the Southwest, which is projected to see the greatest increase in OB/GYN medical demand (10.7%) and surgical demand (9.5%).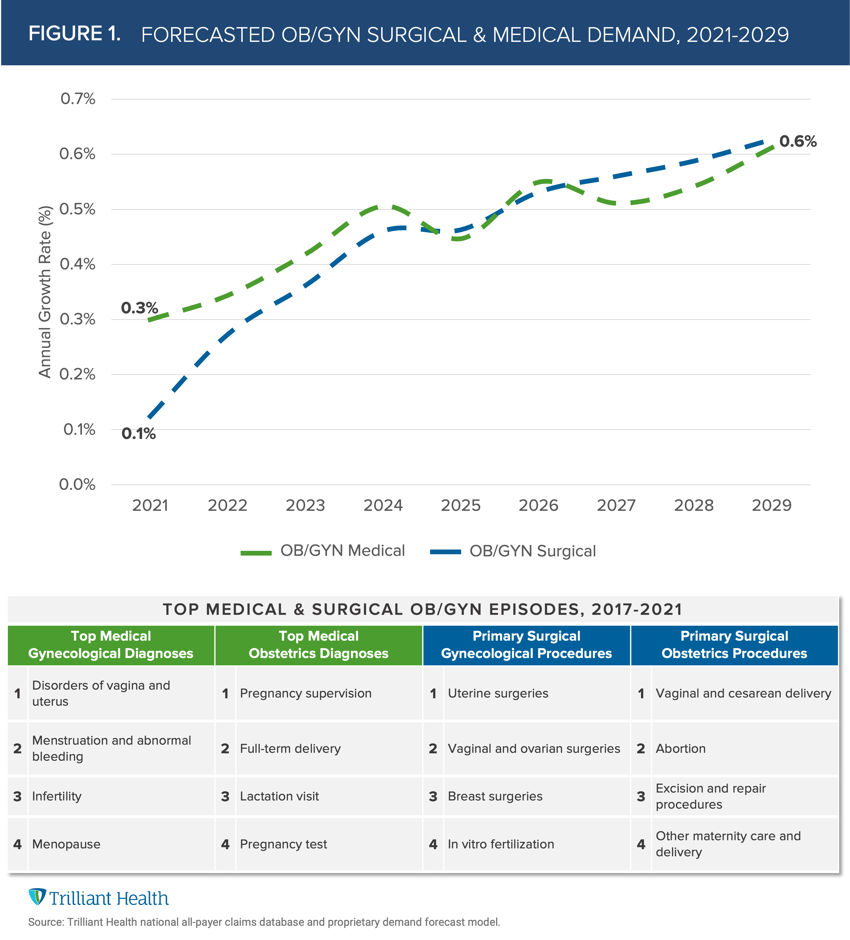 Understanding the diagnoses and surgical procedures driving OB/GYN demand is foundational to investing in this area of healthcare. For surgical OB/GYN services, the three highest volume procedures are births, uterine surgeries and breast surgeries, which account for 83% of all OB/GYN surgical services. In contrast, medical gynecological services are more broadly distributed, with menstruation and disorders of the vagina and uterus accounting for 40% of episodes.
The data clearly demonstrates that women's healthcare is much more complex than issues related to childbirth and menopause. In turn, the data suggests that investing broadly to serve issues related to fertility would generate a higher return than the historical focus on LDRPs. Recent investments by private equity firms suggest that they understand a pent-up market demand for the coverage and provision of fertility services, as well as a more holistic approach to a broad range of clinical issues, including miscarriage, hysterectomies, mastectomies, pelvic floor dysfunction and surgery.
The dynamics between private equity, new women's health entrants, legacy OB/GYN providers, and health systems are complicated, given competing motivations. Regardless, stakeholders must remain focused on improving outcomes, increasing access, and ensuring affordability. Understanding the primary drivers of care, future demand, and insight into high-need populations provides an evidence-based way for these disparate stakeholders to improve women's healthcare.
Thanks to Kelly Boyce and Katie Patton for their research support.