Leading Consumer Brands are Best Positioned to Meet Consumer Preferences for Omni-Channel Care Delivery
In the aftermath of telehealth volumes spiking during the pandemic, a number of established companies have entered the market, joining early market entrants such as Teladoc and Amwell. The net effect, as previously written, is telehealth supply is already exceeding consumer demand.
With 38M Americans (excluding traditional Medicare) generating approximately 96M of telehealth visits during COVID-19, the demand for telehealth is limited to discrete population segments. Yet, continued growth in the supply-side of the telehealth equation would suggest many expect telehealth to substitute for a subset of in-person visit types.
With that in mind, we conducted an analysis of all-payer claims that was limited to E&M codes that offer both an in-person and virtual option. We found that 83.2% of patients that used telehealth during the pandemic still opted to receive in-person care for services offering an equivalent telehealth option (Figure 1). Moreover, the proportion of individuals who opted for in-person care increased (+3.25 percentage points) in 2021. The ratio of in-person to telehealth visits is consistent (+/- 2 percentage points) across Medicare, Medicaid, and commercially insured patients.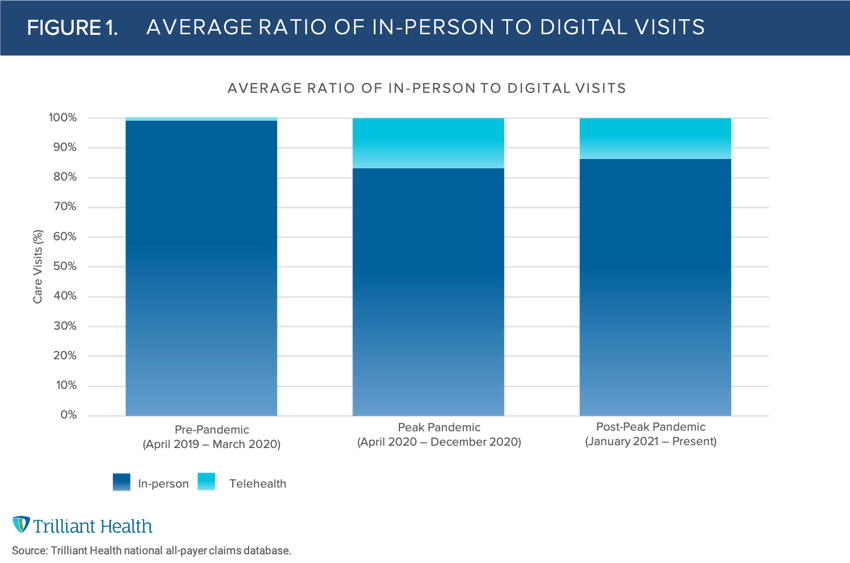 Similar to what we see in industries with abundant choice, consumers also want omni-channel options in healthcare. For example, those who order groceries online still shop at brick-and-mortar stores, just less often; the same can be said for telehealth. Whereas much of the current discussion in the industry has been around telehealth as a substitute good for select services, we must also consider that our patients, and ultimately consumers, will always want the option to flex between modalities for a particular service.
Among the current market of telehealth providers, Walmart's entry, with the acquisition of MeMD, is particularly noteworthy. Given the brand's significant physical footprint (Figure 2), Walmart's expansion into telehealth signals a commitment to integrated, omni-channel healthcare delivery. With more than 1,000 existing locations in the fastest growing states and plans to establish more than 4,000 primary care "supercenters" across the country, Walmart is uniquely positioned to provide consumers with an omni-channel approach to primary care services.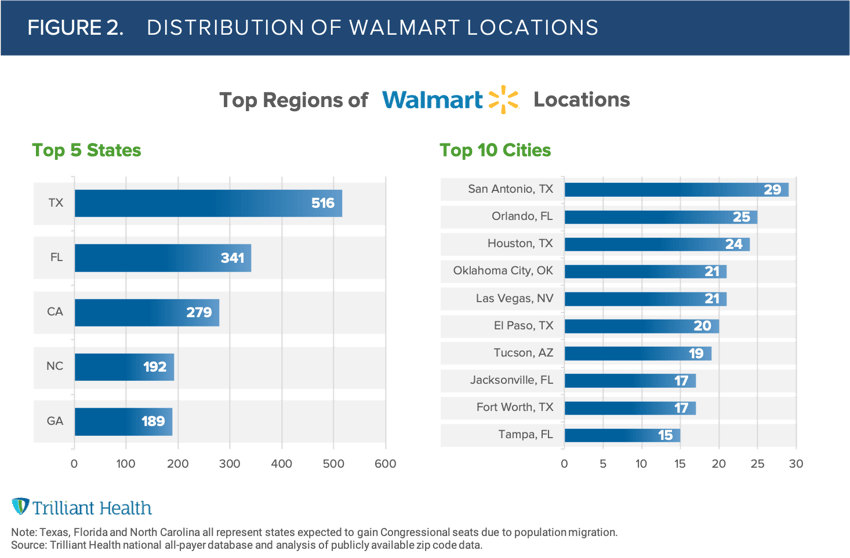 As the number of tele-enabled providers grows, we will inevitably see more suppliers competing for smaller, niche segments of corresponding demand. Thus, providers that can offer both tele- and in-person care delivery capabilities will earn a greater share of care.