Amazon's Expanding Healthcare Footprint Uniquely Positioned to Meet Consumer Preferences in New Markets
Traditional healthcare providers (e.g., hospitals and health systems) are facing growing competition from new entrants, namely retail brands such as Walmart and Amazon. Although healthcare was not the founding pillar of these companies, their low unit prices and strong consumer loyalty uniquely position them to succeed in the post-pandemic health economy.
In 2019, Amazon launched 17 health centers with services including full-continuum acute, chronic, and preventive primary care, same-day pediatrics, prescriptions, vaccinations, behavioral health services, physical therapy, health coaching, and care navigation for specialty referrals and diagnostic services to serve its employees. This initiative served as a pilot for future, broader-reaching ventures serving the healthcare consumer. According to media reports, Amazon plans to expand "Amazon Care," which offers virtual care and in-home primary and urgent care healthcare services, to four more U.S. cities (Philadelphia, Chicago, Dallas, and Boston) this year and 16 additional cities in 2022 (Figure 1). These expansion plans would build on Amazon Care's current presence with virtual and in-person services operational in Washington D.C., Baltimore, and Washington state.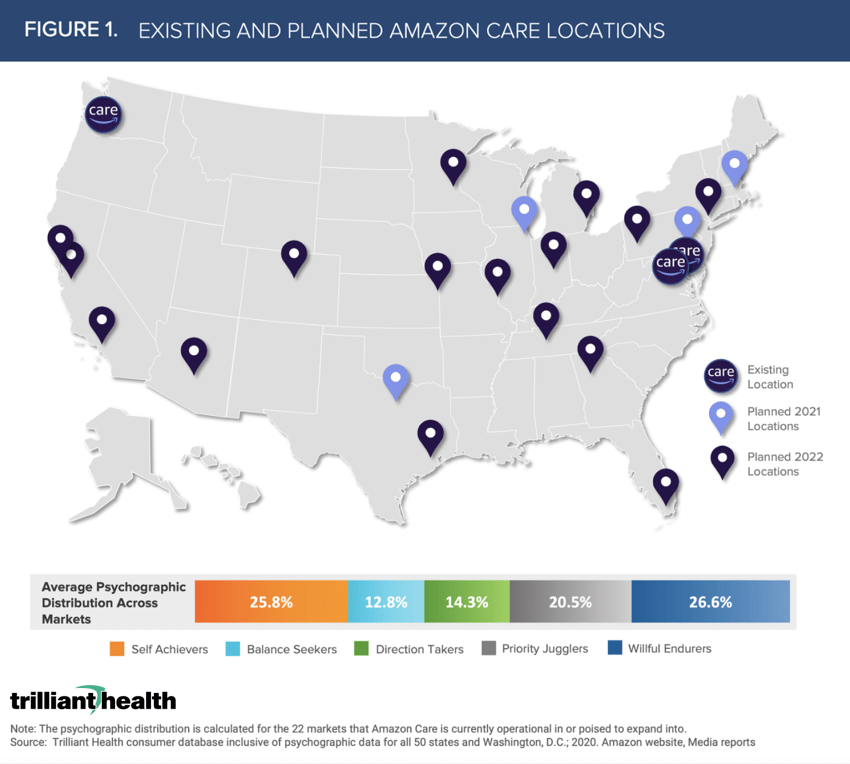 In deciding which markets to expand Amazon Care offerings, Amazon Vice President Babak Parviz noted in a June interview with the Wall Street Journal that population density at the MSA level was the primary factor for market selection, given that in-person care requires the ability to reach patients' homes within 60 minutes of visit initiation. The psychographic distribution of the areas in which Amazon Care currently operates and where it plans to expand will play a considerable role in understanding which consumers will be more inclined to utilize Amazon Care services.
Willful Endurers and Self Achievers account for a majority of the consumers in markets where Amazon Care is currently operational, as well as markets where there is potential for future expansion (Figure 2). Willful Endurers live in the "here and now" and believe there are more important things to focus on than improving their health for the future. They are more likely to utilize urgent care than primary care physicians. Self Achievers are most proactive when it comes to their wellness and stay on top of health issues with regular medical checkups, health screenings, and research. They are more likely to utilize primary care providers than urgent care centers and emergency departments. Willful Endurers and Self Achievers are also more likely to use telehealth. Given the virtual nature of Amazon Care and its offerings spanning primary/preventive, urgent care, and prescription delivery services, it will likely be received well among both Self Achievers and Willful Endurers in its current and potential future markets.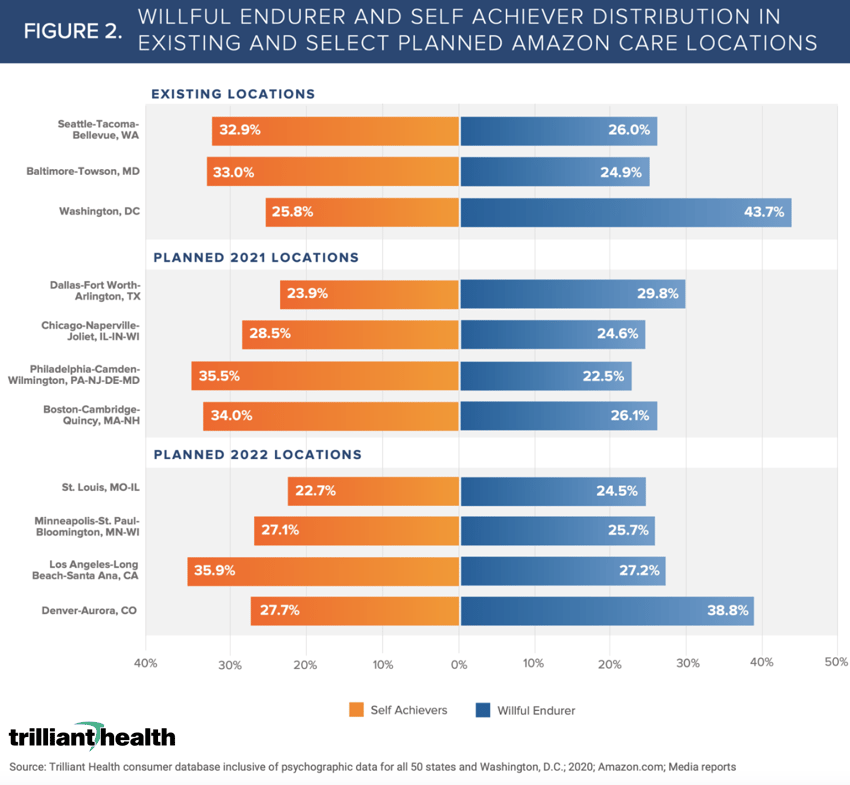 Despite 50 years of health system consolidation, there is no dominant national hospital provider. Businesses like Amazon with a national customer base have a unique opportunity to expand their share of wallet with loyal customers. Notably, approximately 44% of Americans have an active Amazon Prime membership, while the largest U.S. health system, HCA Healthcare, serves just 1% of Americans.
Considering what we know about psychographics, Priority Jugglers, the third most common psychographic profile attributed to consumers in Amazon's target markets (average proportion = 20.5%), are motivated by perception of brand quality and proximity of sites of care. Given this motivation, Amazon's strong brand quality and the convenience of virtual and in-home care will likely appeal to Priority Jugglers. While Priority Jugglers are characteristically reactive when it comes to their own health issues, they are very proactive when it comes to their family's health and will make sure their dependents receive required care. The convenience of in-home care could be beneficial for managing health needs for dependents and children, both from a primary and urgent care perspective. All said, Amazon's potential appeal to the Priority Juggler segment of the market will ultimately hinge upon whether these consumers perceive Amazon to be a quality brand when it comes to healthcare, especially in comparison to academic medical centers.
Given the breadth of capabilities Amazon can deliver, stakeholders across the health economy will need to consider the extent to which their strategies can compete for more consumer share with this non-traditional entrant.
Thanks to Katie Patton for her research support.