Reports and Studies
Trends Shaping the Health Economy:
Behavioral Health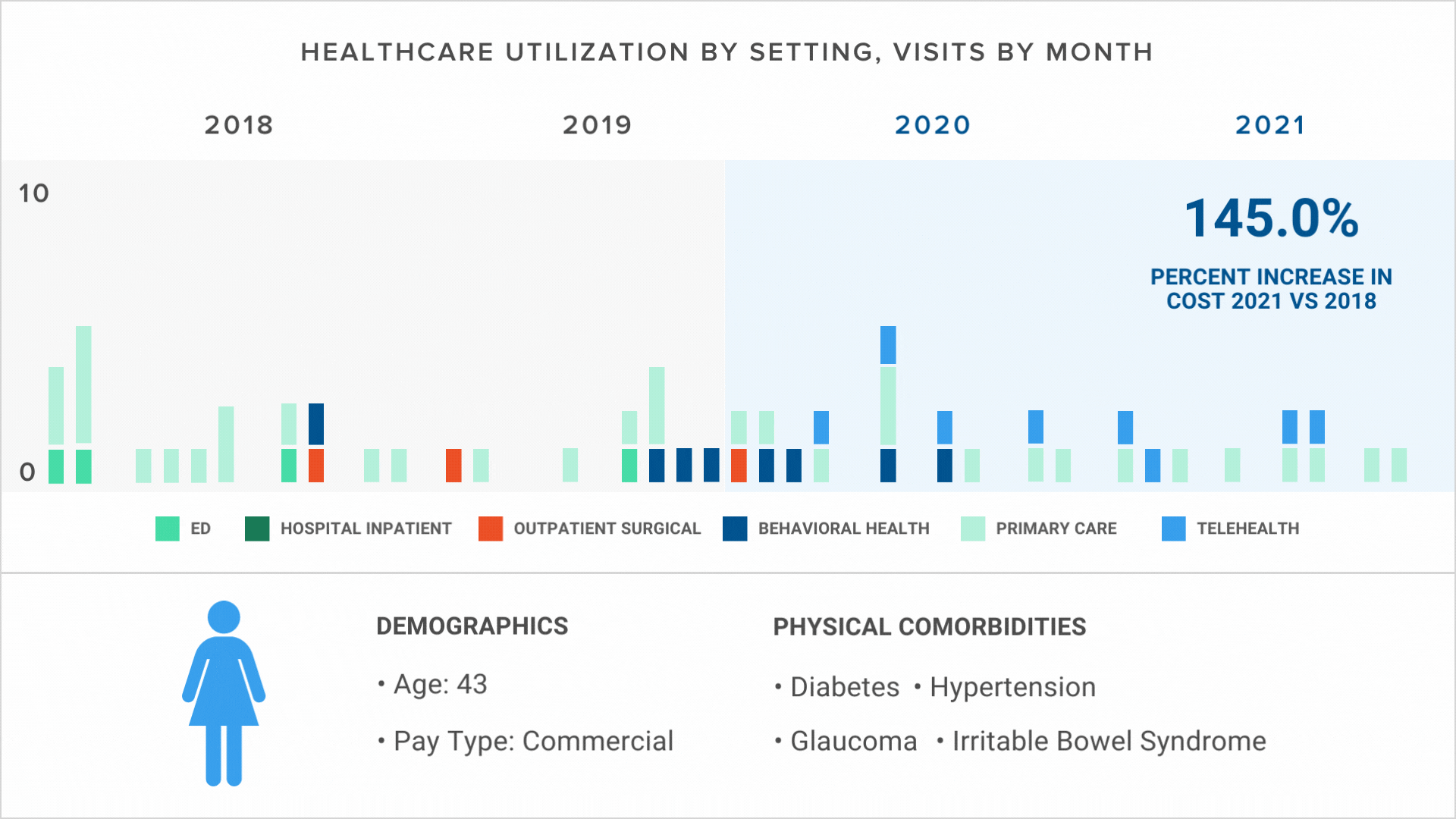 Data Story Highlights
In 2021, 22.8% of adults had a mental illness, while only 18.8% of adults received any form of treatment. By Q2 2022, behavioral health volumes were 18.1% above pre-pandemic levels.

84% of patients who went to the ED for alcohol or substance use disorder treatment did not receive follow-up inpatient or residential treatment center care within 60 days.

While prescriptions for Adderall and its generic to ADHD patients under 21 and over 45 remained relatively consistent with pre-pandemic levels, prescriptions skyrocketed by 58.2% in the 22-44 age cohort from Q1 2018 to Q2 2022.
Americans under 18 are experiencing high rates of certain behavioral health conditions, including a 107.4% increase in eating disorder diagnoses and a 44% increase in depression disorders.
Private equity investments in the behavioral health sector, including virtual care and digital health platforms, totaled $2.6B across 289 deals in 2022, declining 52.9% and 15.8%, respectively, from 2021.
On average, total charge amounts were 20.0% higher for patients that have diabetes, hypertension and depression ($27,511) than those with diabetes and hypertension alone ($22,929).
A Note from our Chief Research Officer, Sanjula Jain, Ph.D.
As a health economist, I study healthcare through the lens of demand, supply and yield. Even though markets for healthcare products and services deviate from what we economists would call the ideal market, the core principles offer a valuable framework for examining secular trends.

It is well established that the behavioral health (including mental health) status of Americans—from elementary school students to Medicare beneficiaries—has declined since the onset of the COVID-19 pandemic. Simultaneously, the pandemic catalyzed investments in digital health capabilities (e.g., virtual therapy, e-prescribing) in response to unprecedented demand. While the magnitude of the national behavioral crisis is well documented by government agencies (e.g., CDC, SAMSHA) and in the academic literature, less is known about how the pandemic changed the behavioral health care journey and the extent to which certain populations and geographies were differentially impacted.

This report is designed to provide a data-driven foundation for every stakeholder to think about the demand, supply and yield trends influencing the future of the behavioral health economy.

I hope that you will use this report to inform your strategic approach to the organization, financing and delivery of behavioral health care services in the years ahead.
In contrast to the publicly available report that is limited to research at the national level, Service Line Intelligence is a premium subscription that analyzes changes in demand, supply and yield at the condition, therapeutic, provider and market levels.

Learn More >
Stay up to date on
Trends S

haping the H

ealth

Econom

y