Using Data to Navigate the Evolving Health Economy – A Conversation with Trilliant Health's President and CEO, Hal Andrews
August 25, 2021
Hal Andrews
Podcast
This conversation originally aired on Waller Lansden Dortch & Davis, LLP as part of the podcast, Point by Point.
[3 MIN READ | 40 MIN LISTEN]
Trilliant Health's President and CEO, Hal Andrews, sat down with Waller's Chief Business Development Officer and host, Morgan Ribeiro. The two were joined by Waller Partner, MaryEllen Pickrell, to discuss the key findings of Trilliant Health's inaugural 2021 "Trends Shaping the Post-Pandemic Health Economy" report. The report is available for download.
You can listen to the full conversation (40 Minutes) directly below or scroll down for a brief overview.

Note: The Q&As below are paraphrased from the conversation.
Q: What prompted Trilliant Health to develop the 2021 report?
Hal: The idea came from our Chief Research Officer. She came to me and said she'd always wanted to do a Mary Meeker Internet Trends report for healthcare.
We started from the standpoint that health systems do not follow the laws of economics and therefore will not know the true number of suppliers in their market, making it easy from them to overestimate their market share. From our information, almost 2 million distinct providers delivering healthcare services in the United States do a small amount of volume making the impact death by a thousand cuts. And what I tell our customers is yes, but that's still death.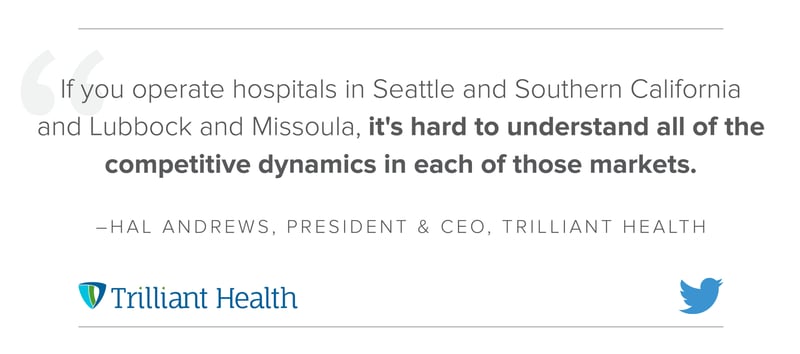 Q: The report shows there will be flat-to-declining future demand for health services, with increasing supply for new market entrants like Amazon and Walmart. What do those declines mean for healthcare leaders?
Hal: People who operate hospitals know that admissions have been in decline since 2008, with a couple of slight upticks over the past 13 years. If you step back and look at the absolute price points, Walmart and Amazon think they can make money at a percentage of Medicaid. While most of the hospital industry is conditioned to think about making money at 120% of Medicare, they are not for making money at 50% of Medicaid.
The jumping-off point is to understand the emerging competition, the price points at which they'll deliver care and the fact that there is flat-to-declining demand that game theorists call a negative-sum game. The good news is there are a couple of ways to win at a negative-sum game.


Q: Telehealth's peak pandemic high has already begun to taper with the rate of decline ranging from about - 37% to -3%, depending on the state. Can you tell us more about the telehealth-related findings in the report?
Hal: Our data shows that telehealth has limitations. The first is clinically by showing 86.2% of the people using telehealth were commercially insured. The other limitation is from a demographic standpoint showing that high utilization was female, wealthy, and Caucasian. I believe there are a few good uses for telehealth, but in terms of the things that are the economic lifeblood of a hospital, telehealth is functionally useless.

Q: What are some of the implications of flat-to-declining demand as it relates to companies who are investing in the expansion of surgery?
Hal: There are two ways to look at this. The first is to look at the hospitals that are expanding their ambulatory presence and then I'd look at the companies that are exclusively focused on ambulatory. Depending on the market, I think the trends are good for them, even though the overall demand is flat-to-declining.
Surgery centers have a lot more wind behind their sails, in terms of what employers, policymakers, consumers and entities bearing the risk want. Unfortunately for hospitals, it's clearly documented that there's a lower risk of surgical site and hospital-acquired infection in an outpatient setting than an inpatient one. I think you see all those things in the stock prices. If you look at Tenet and Surgery Partners with their increasing focus on ambulatory assets, those are two stories that show that the market is rewarding the trends that are benefiting the surgery center providers.

Q: Walmart has established a new price for primary care services offering up to 70% cheaper visits. What can we expect to see from these new market entrance and what is most surprising?
Hal: I frankly don't understand how any health system can compete with Walmart or Amazon on primary. At scale and by scale, a group of physicians, each of whom has a panel of 3,000 patients and sees 18 to 22 visits a day without a massive number of ancillary services inside the group makes it hard to make money in primary care. And yet Walmart is specifically going after primary care. The health system is not prepared.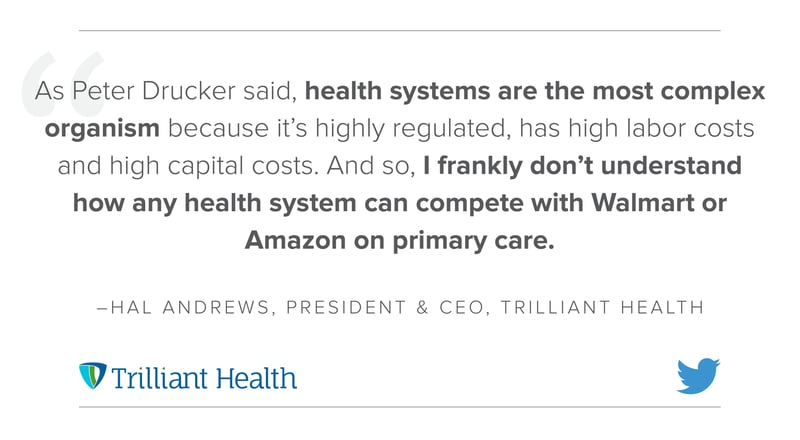 Q: What were some of the surprising findings as it relates to some of the specific markets in the reports market-by-market analysis?
Hal: The surprising thing is to break down the forecast demand by care trends and population migration. For example, markets that are in the Sunbelt states where HCA has a strong presence are the markets where there will be demand driven by migration trends and translated into math. Those are migration trends that are largely commercially insured populations. Making, Dallas a great place to be running hospitals.
The market that surprised me the most was Chicago and that is because it is not going to be a place of growth over the next 10 years. It's a market that has many noteworthy systems and I believe it is going to be a market where those systems will have to compete aggressively to win in that market.

Learn more about Trilliant Health's 2021 report by downloading it here. You can also follow us on LinkedIn and Twitter.