Post-COVID Recovery – A Conversation with Trilliant Health's Sanjula Jain, Ph.D.
October 29, 2021
Sanjula Jain, Ph.D.
Podcast
This conversation originally aired on the Becker's Healthcare Podcast.
Trilliant Health's SVP, Market strategy and Chief Research Officer, Sanjula Jain, Ph.D., sat down with the founder and publisher of Becker's Healthcare, Scott Becker, to discuss the health economy, how we think about healthcare consumers, and the mismatch of demand and supply in the U.S. healthcare system.
You can listen to the full conversation (27 minutes) directly below or scroll down for a brief overview.

Note: The Q&As below are paraphrased from the conversation.

Q: Can you describe what the health economy means?
Sanjula: The use of that term is intentional; we have a bad habit in healthcare of thinking in silos. All of us on the provider side, working with hospitals and health systems, think about us as the provider economy. And then we think about pharma and payers. Really, the starting point is the health economy, which is $4 trillion. It's the largest sector of the global economy for the United States. Within that, hospitals are the largest segment of that economy.
As healthcare continues to grow, and we have new entrants and non-traditional players enter, how we operate can't be restricted to traditional healthcare thinking. It really must be like other economies and thinking from the fundamental rules of supply, demand, yield perspective. We need to start thinking like consumer industries and retail industries who run their business in economic terms.

Q: Talk a little bit about some of the trends that you're watching, maybe some of the trends that are overlooked.
Sanjula: There are so many anecdotes that have been ingrained in us for the last 30 to 40 years that really aren't true. For example, we tend to think in healthcare that our patients are loyal to us as providers. So, if a patient comes to my health system, then they will probably continue coming to me. The reality is patients are consumers and consumers are, by definition, not loyal. On average, healthcare consumers across the country go to about 4.2 provider brands each year, which is not atypical when you compare that to other industries, like grocery brands or streaming services.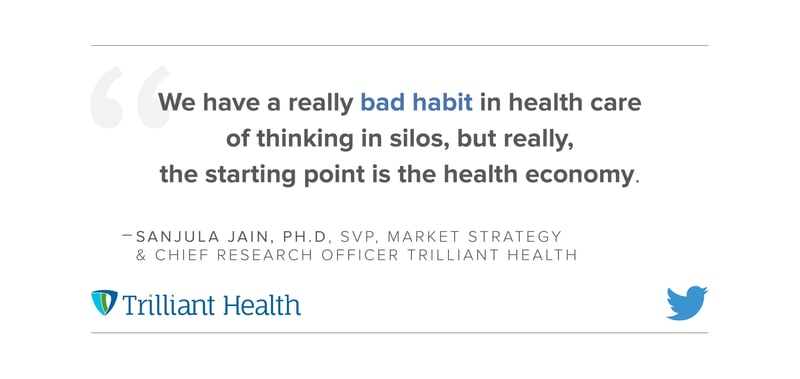 Q: Is demand in healthcare slowing down?
Sanjula: Across the country demand has been flat to declining since 2008. Now when you compound that and think further out at future demand--which is a function of folks moving to different geographies during COVID, their psychology of preferences, incidence of disease and care, and more--forecasting that out, you start seeing that demand in certain geographies is staying about flat. States like Texas, Florida and Arizona are seeing growth in demand. And there's a variety of reasons for that, one being just population growth.
But overall, compared to what it was years ago, it is still lower than what our hospitals and health systems are used to operating at. I spend a lot of my time trying to show that data and make it real for people at the market level, because I think looking at anything nationally is not as impactful as looking at it locally.

For more insights from Sanjula Jain, subscribe to The Compass, a weekly newsletter exploring trends in the health economy.