Using Data Stories to Guide Healthcare Decisions – A Conversation with Trilliant Health's Sanjula Jain, Ph.D.
September 9, 2021
Sanjula Jain, Ph.D.
Podcast
This conversation originally aired on The Groves Connection Podcast.
Trilliant Health's SVP, Market Strategy and Chief Research Officer, Sanjula Jain, sat down with the host of The Groves Connection, Dr. Robert Groves, Executive Vice President and Chief Medical Officer of Banner|Aetna to discuss her path to Trilliant Health and how she is using her background and our data to help healthcare leaders make informed data-driven decisions.
You can listen to the full conversation (1:15) directly below or scroll down for a brief overview.
Note: The Q&As below are paraphrased from the conversation.
Q: How did you arrive at Trilliant Health or better yet described as data Disney World?
Sanjula: Over the past few years I have been able to work closely with decision makers providing me insight into the way they are thinking. My conversations always came down to connecting all the information and data coming from different places to help them make informed decisions.
So, in a way it became a natural fit when the CEO of Trilliant Health, Hal Andrews, reached out. Honestly, I didn't believe it until I saw Trilliant's ability to seamlessly put all the pieces together. The company is this treasure trove of unlimited data that I can use to write any data story I want.
I get to provide directional finings to questions like: What are the patterns? What are the things that we're not thinking about that may become trends? What do we need to prepare for that could impact us 10 years from now?
Q: Tell us about the weekly research analysis you have started at Trilliant Health.
Sanjula: I view my role bringing disparate pieces of information and presenting it in a way that can provide context for someone to keep in mind when they're making a decision. This idea of sharing information in a way that paints a picture directionally is what brought me to this concept of data stories. The research series is called The Compass and is published every Sunday, providing new insights into the trends that is backed by our data.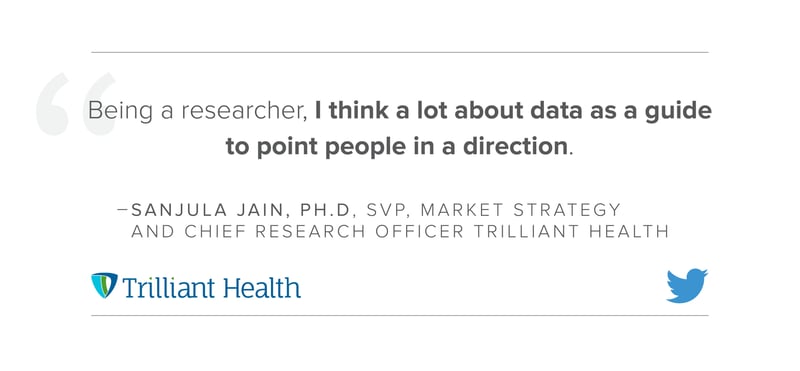 Q: Where do you start when coming up with the topics for The Compass?
Sanjula: I start by identifying a relevant topic and then I pull in related aspects or metrics. A recent example is my piece about Walmart and what their activity in the healthcare industry really means. My team and I began exploring different avenues from reading Walmart's financial statements to see how much revenue is coming from health services to thinking about their geographic spread. Once I have the data, I then frame my commentary around what the data says is happening directionally.
Q: What do you think are the principal trends post-pandemic individuals should be aware of?
Sanjula: Let me take that question one step back and ask, how do we think about all the noise and different things happening to make decisions? I start with the basic framework of supply, demand, and yield. Ultimately, it is the intersection of supply and demand that creates the yield, which is really the cost of care, how expensive it is, and where we allocate our resources.
I bring that up because the Trilliant's findings show that at the end of the day, post pandemic, we have more supply than there is demand. And because of that, it is creating this unsustainable yield in effect creating unsustainable high prices that are artificially inflated.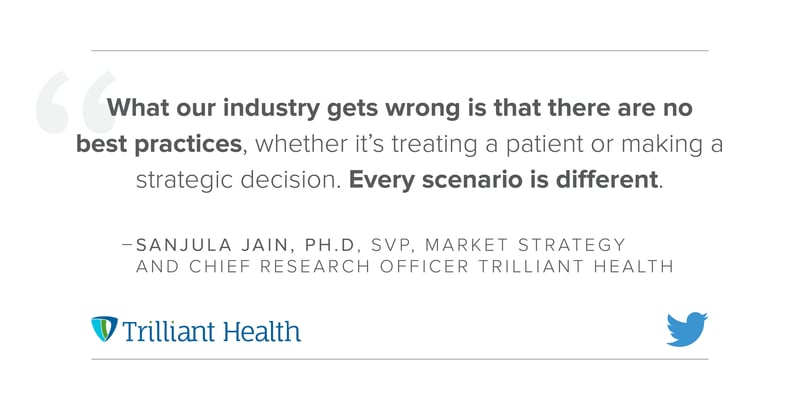 Q: We have learned that there must be some level of oversight, usually by a government body of some kind, but how does data help us get to a place with more transparency, more interoperability, and closer to a real capital market than what exists in healthcare today?
Sanjula: Consumers drive that change. If you look at any other kind of regulated consumer industry, it always comes back to supply, demand, and yield. One of my favorite examples is Uber and that is because they are operating their business within the confines of economic principles and use data to back their decisions in real time as it pertains to different markets.
That brings me to the continuum we have in the market. On one side we have new entrants like Amazon and Walmart using a ton of data and are operating with the consumer at the center. Then on the other side, we have traditional health care who are not thinking about supply, demand, and yield, but also don't have the data like the new entrants to begin to understand the real magnitude of it and how it is changing.
To answer your question, I believe data is this bridge that can help us have visibility into the fuller picture and then use those levers to ultimately, bring costs down and figure out where the needs are for the consumer.
Q: Can you touch on Trilliant Health's machine learning and how it relates to understanding trends?
Sanjula: Historically, our industry has relied on retrospective data to make decisions about the future. Trilliant's robust predictive models provide decision makers the ability to forecast the likelihood of future scenarios at the individual market level, which is key to developing evidence-based strategies.
Q: The future of healthcare, not just in the US but in the world, are you a pessimist or optimist?
Sanjula: I am an optimist because there's so much innovation and convergence happening in different ways. All the answers are out there. We just need to stitch them together.
Sign up to receive The Compass every Sunday here.